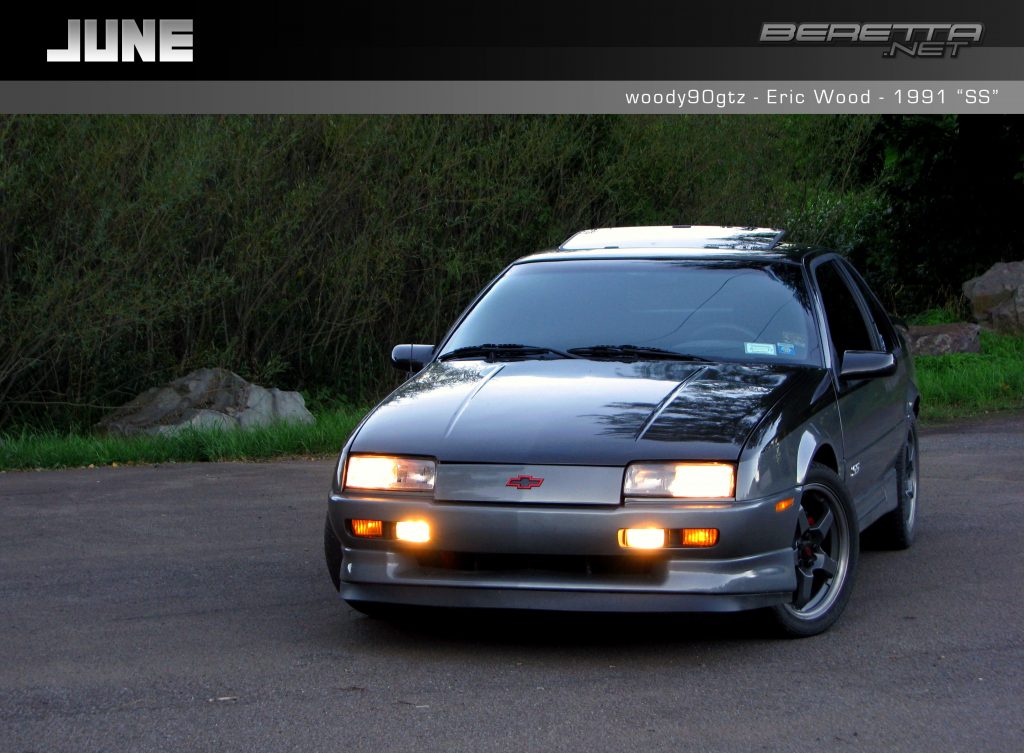 woody90gtz – Eric Wood's 1991 "SS"
If you're reading this you might already know the story behind the "SS." It's originally a teal '91 GT 3.1v6/5spd car. I bought it as a bare shell in Jan 2009 and turned it into my summer DD – finally driving it that July. My first car in high school was a Quad GTZ that I sold to buy a 3100 Z26 in college. After a lot of work, that car rusted out from under me and donated some parts to this one. I think of it as the "SS" Chevy could have (and should have) built.
It has the factory Z ground effects and a lip on the front and some 17s with sticky rubber. I painted it gray in my dad's garage with a Summit kit and 2-toned it later on.  Other  than that the exterior is stock. I swapped in a 3400 out of an '04 Impala with modified headers and K&N intake. I shaved & engraved the upper intake manifold and deleted & smoothed the EGR. Clutch is a 2+ from Spec and when I rebuilt the trans I converted the open diff to a limited slip with the help of Engineered Performance. It sits on Eibach springs and KYB shocks & struts with a combination of GM and DIY chassis bracing. Brakes are the upgraded 92+ up front and rear disc conversion in back with good pads. It stops AWESOME. Front sway bar is FE7 spec and the rear is a solid Addco. Inside I fabbed mounts to install some leather Cobalt seats, as well as using a leather Z34 steering wheel and Z28 shift knob. I converted all of the interior lighting to red LED ala Pontiac and made a custom gauge and stereo faces on the CNC and printer at work.
The car is a lot of fun, and I beat the snot out of it. I'm guessing it's about 220hp, but it's only 2700lbs. My best time at the strip yet is a 14.4@96…but that was with a bad 4th gear that died completely on the next pass. I think with a clean run it has a shot at a 13.9. It's also good with lateral G-forces on the autocross – big grins. Great road trip car, too. I've driven it all over from Boston to Tennessee, and more will come. I don't plan on this car ever leaving my possession. It will even get a tube chassis RWD pro-touring build once my bank account agrees. haha