Connect with your social network account
Registered User
Posts: 51
Joined: Wed Jul 04, 2012 1:33 pm
Location: san antonio,TX
I was hunting for replacement z26 spoiler and found 1 and as I was removing it one of the studs started to spin .
Since there were no others I picked a cav ph2 spoiler and mocked it up on a beretta at the yard what do you guys think ,I like it my dad doesnt
if aint broken upgrade it
---
Registered User
Posts: 973
Joined: Sun Mar 23, 2008 10:58 pm
Location: canananada
i was/still am contemplating purchasing one for sale for $25 in my area just for shits and giggles. my trunk already has some rust and a dent or 2... whats another couple custom holes?
4th one's a charm, 5th one is, beginnning to sound like this is an addiction...
95 black z26, '96 White z26 awaiting new life, and 2.5 mazda trucks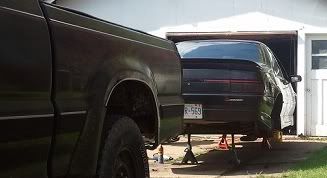 ---
Hmm, sorry, no.

It doesn't lineup right on the sides for width, and looks like a giant luggage-rack piece from an eighties GT. But, I have a Beretta with a third-gen Firebird wing spoiler, and another with a Fiero GT diving-board drop-tip wing, so what do I know about style?

I have a ninety-something Mazda MX6 spoiler that should look pretty good on a Beretta, and might go on my old '95 Z-26 if I get her back... I would love to see a Subaru WRX spoiler (late nineties, early 2000's, I'm thinking) mocked-up to see if the width is right.
1989
Super Charged 3800 Series II (First)

Six

-Speed Conversion

GTU
1990
Turbo 3.4 5-Speed

T-Type
1990
4.0L 4-Cam 32-Valve V-8 5-Speed

Indy GTi

(Project)
1990
Stock(!) 3.1 MPFI Auto

Indy
1995
3.4 DOHC Turbo 5-Speed

Z-26

(Project)
---
Registered User
Posts: 3029
Joined: Wed Mar 31, 2004 9:36 am
Location: Hamilton, Ontario, Canada
Has thanked: 5 times
Been thanked: 3 times
Contact:
NO!

However the one i would like to see mocked up on a Beretta is one off an '92-'94 Plymouth Duster/Sundance.
I think I actually measured one once upon a time and it's a pretty close fit.
Eric
Asylum Motorsports
"Where we're not happy 'til YOU'RE not happy!
'91 California Quad
'92 3500 GT gone and not really missed. It was fun. Documented 13.47 N/A.
---
---
Who is online
Users browsing this forum: No registered users and 2 guests