Connect with your social network account
Global Moderator
Posts: 368
Joined: Sun Apr 29, 2001 7:28 pm
Location: Philadelphia Suburbs
Contact:
The corners of my solar wing are starting to popup and I want to reinstall it before it flies off going down the highway. The initial install was some kind of double sided tape and some liquid that got applied to the surfaces before the tape. When I got mine though the liquid solution was mostly dried up.

Thoughts or ideas on what to use to re-install it.
92 GTZ TURBO <-- Rex Mobile
---
The liquid is usually a cleaner to make the tape stick correctly, the tape is generally 3m automotive tape. I would remove it completely, reclean it, then use a heatgun on the leading edge to form it back to the glass a bit.
---
Registered User
Posts: 973
Joined: Sun Mar 23, 2008 10:58 pm
Location: canananada
yes, clean your glass and the are of the solar wing that attaches to the window really well. glass cleaner and a flat razor blade (always use the glass cleaner or water with the blade...lubrication), for the solar wing mounting area, possibly even scuff it up slightly with fine sandpaper, more for the double sided tape to grab.

good quality 3m double sided tape like used on body moldings (is that all that came on it initially? same as outside mounting ventshades...). alcohol wipes to clean the glass... not really needed if you razor blade clean it.
4th one's a charm, 5th one is, beginnning to sound like this is an addiction...
95 black z26, '96 White z26 awaiting new life, and 2.5 mazda trucks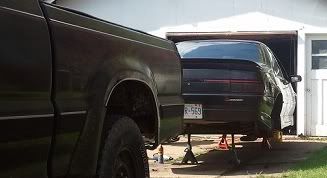 ---
Administrator
Posts: 10773
Joined: Thu Jul 05, 2007 9:18 am
Location: Brooklyn CT
Has thanked: 12 times
Been thanked: 50 times
Definately heat it up and try to bend it to form to the glass better... Otherwise you'll still have pull against whatever you stick it with and it will eventually pull up again.
---
I have actually taped it off and went to a windshield place and had them bead around the edges with the same stuff they use on windshields, then flatten it out, had worked great.
BMAN

---
Global Moderator
Posts: 1919
Joined: Tue Jan 24, 2006 6:48 pm
Location: Lakewood, Colorado
Has thanked: 9 times
Been thanked: 6 times
Contact:
3M double sided adhesive tape. I have used it twice in the past with GREAT success.

And yes, without minor modification to the wing, those corners WILL pop back up in mere months.
BFest 2013: Denver Colorado Host & Committee Member
Winner: Best Custom Late Model Interior
Gopher Award - Tin Foil Award - Banner!
---
Global Moderator
Posts: 368
Joined: Sun Apr 29, 2001 7:28 pm
Location: Philadelphia Suburbs
Contact:
Thanks everyone. 3m double sided tape and a heat gun it is.
92 GTZ TURBO <-- Rex Mobile
---
Registered User
Posts: 740
Joined: Mon Jan 17, 2011 6:48 pm
Location: Meadville, PA
Contact:
Best way to get the 2 sided 3m tape to permanetly stick is some lacquer thinner or now they call it wash thinner, appy some with paper towel or cloth wher the tape would stick and it really bonds well where it was cleaned with that I've tryied rubbing alcohol and ppg dx330 wax and grease remover and it doesn't bond as well trust me I work with the stuff everyday lol
1990 Beretta GTZ Quad,226 cams, 3.94 W-41 trans
1990 Beretta GTZ Quad 4, 3.61 muncie 5 speed (project)
1968 Chevelle 300 deluxe 327ci 4 speed M-21, 12 bolt 4.10 posi
1978 Chevy K10 Z77 Sport 4x4
1977 GMC Sierra Classic 25 454 crew cab
-Ryan
---
Registered User
Posts: 123
Joined: Wed Mar 12, 2003 8:56 am
Location: North Dakota
Has thanked: 1 time
Contact:
i know this is a old post, but to some that are still having this problem i have heard a lot of good things about "3M Scotch Clear Mounting Tape #4010"
---
---
Who is online
Users browsing this forum: No registered users and 2 guests