Connect with your social network account
Registered User
Posts: 4
Joined: Sat Jun 15, 2013 10:10 pm
I have a 95 Beretta 2.2L with manual trans and recently my car started making a grinding noise while driving down the road but the sounds is only coming from the right front passenger side. Could this possibly be the CV axle or something else? Any advise as to what this might be would be greatly appreciated.
---
It could be the CV axle, but they tend to click and bang as they get worse, not grind, and only doing this around turns or when accelerating.

The grinding would lead me to think it was wheel bearing or brake caliper related, but it could be a bunch of different things.
---
Registered User
Posts: 973
Joined: Sun Mar 23, 2008 10:58 pm
Location: canananada
likely brakes, start by pulling the wheel and checking it out. you'll see some grooves carved in your rotors if your pads have worn to the rivets, or something foreign got in there.

wheel bearings are usually more of a howl at certain speeds when they are about done

CV joint, you'll know when that's had enough... a slight bang and jerk, and some shrapnel like noise as it grenades. and then the lack of movement, or really jerkiness movement while whats left tries to catch a grip. ask me how i know...
4th one's a charm, 5th one is, beginnning to sound like this is an addiction...
95 black z26, '96 White z26 awaiting new life, and 2.5 mazda trucks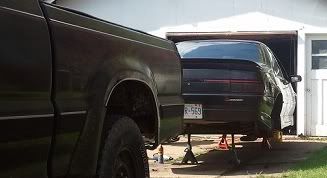 ---
Registered User
Posts: 1561
Joined: Fri Aug 14, 2009 12:13 pm
Location: Truro, Nova Scotia. Canada
Has thanked: 3 times
Been thanked: 20 times
i have had 3 axles go bad, none of them have even broken. They all just make the car vibrate under acceleration very annoying.
---
Registered User
Posts: 4
Joined: Sat Jun 15, 2013 10:10 pm
Well I replaced my front and rear brakes thinking that might have been the issue however, this was not the case. I also checked to see if the CV boot had any cracks or indication of going bad. But everything looked in tacked granted I am unable to look at the inside to see if it is damaged or not. So now I am thinking it has to be the wheel bearing. I've only changed a wheel bearing once in my life and that was many many years ago and it was on a Daytona. Are they difficult to change? Thanks for all of your feedback

---
Registered User
Posts: 1234
Joined: Sun Mar 12, 2006 12:11 am
Location: Rochester New York
Has thanked: 1 time
Been thanked: 3 times
Contact:
Take your brakes back off, 30mmnut in mid and 3 t55 bolts through the big hole on wheel bearing and whack them off the spindle(can be a.bitch)
---
Registered User
Posts: 6384
Joined: Thu Jul 26, 2007 11:36 am
Location: Kansas
Has thanked: 2 times
Been thanked: 10 times
Don't forget the rear seal in the spindle.
keep'em flying!
---
---
Return to "Suspension and Brakes"
Who is online
Users browsing this forum: No registered users and 2 guests