Connect with your social network account
I am with
ifixalot
on this one -the drain plug is best removed to lose any debris that may have settle to the bottom -that is also a good argument for changing cold oil that sat overnight, as opposed to nice hot oil that actually flows well, but that is a different subject, I guess. I also agree that 2900 miles is really early for quality synthetic, but if you are pre-charging your filter, you are doing more good and no harm to your engine. The top-suckers probably work fine for what you are doing though, especially with that few miles on the oil, and if it is really that difficult to just get it done, it might be worthwhile -maybe have a shop do it every fifth oil-change or something just to clear-out the bottom of the pan...
Our shop charges $35 for a semi-synthetic oil-change, we use NAPA Gold filters (which are rebranded WIX), and if a customer wants to supply their own oil and/or filter, we charge less. We don't do it to make money, we do it as a courtesy to our customers, and yes, to look for other
legitimate
problems. I can't believe there isn't a decent, honest shop somewhere around you that could do the work for $20 or $30... Try talking to the little independents, instead of the corporate pirates. Good luck.
1989
Super Charged 3800 Series II (First)

Six

-Speed Conversion

GTU
1990
Turbo 3.4 5-Speed

T-Type
1990
4.0L 4-Cam 32-Valve V-8 5-Speed

Indy GTi

(Project)
1990
Stock(!) 3.1 MPFI Auto

Indy
1995
Z-26
1995
3.4 DOHC Turbo 5-Speed

Z-26
---
Registered User
Posts: 423
Joined: Thu Mar 06, 2014 10:28 am
Location: New West B.C. Canada
Been thanked: 1 time
Why don't you put one side of the car up on a curb and slide under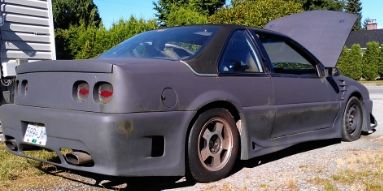 ---
Registered User
Posts: 3030
Joined: Wed Mar 31, 2004 9:36 am
Location: Hamilton, Ontario, Canada
Has thanked: 5 times
Been thanked: 3 times
Contact:
And if I got up on the curb over a sewer drain that would solve another problem now wouldn't it?
40 years ago we actually did stuff like that!!
Eric
Asylum Motorsports
"Where we're not happy 'til YOU'RE not happy!
'91 California Quad
'92 3500 GT gone and not really missed. It was fun. Documented 13.47 N/A.
---
---
Who is online
Users browsing this forum: No registered users and 6 guests