Custom LED Light Builds - Updated February 6th 2013!
Posted: Sat Jul 16, 2011 1:06 am
Currently Available Builds for sale:
Custom Side Marker LED conversions ver 2.1.
Custom 3rd Brake Z04 (GTZ,Z26) ver 2.2
Tail light insert panels for US versions ver 1.0 *New
Tail light insert panels for Euro versions ver 1.0 *New
Custom Front Z04 Turn Lamps ver 1.0 *New
Planned builds:
Custom 3rd Brake GTU (2 styles, coming eventually)
Pricing:
(all prices are US dollars unless otherwise specified. PayPal preferred, but will accept check, etc. Be sure to add to cover fees for PayPal (if they occur)
Side Markers. Price includes the following:
Permanent conversion

of a set of OEM markers (or OEM replacements/clear) that you supply me with, they only need to have good lenses.
12 surface mount LEDs per light of proper red/yellow color at regular intensity.
Approximately 6-8 inches of wire length between the pigtail and the light.
Custom Plug & Play pigtail connectors, providing your originals aren't corroded/non-functioning.
Double Sided automotive trim tape for the square ends to fasten to the cover. This replaces the use of the hook tabs/ears and works well in combination with the screws.
Shipping to you.
Price is $116 per completed set.
If you do not need the pigtails (in case of bad connectors) the price is $76.00 per completed set. If you need me to provide the markers, then add ~$20.00 to the order. Average price for a used marker light is $5 bucks.
I still have a couple of sets of markers available for conversion. *New
GTZ/Z26 (Z04) 3rd Brake Spoiler Light. Price Includes:
Permanent conversion

of 3rd brake provided to me for conversion. Again, only need the lens to be intact. Melted, rusted or corroded bulb housing doesn't matter.
18 surface mount red LEDs will be installed (1 strip).

These are now a higher power LED.


8-10 inches of wire supplied.
2 Latch locks for connecting light to trunk lid harness, or you can solder/shrink tube it.
Shipping to you.
Price is $54 per converted light.
If you need me to find you a light to convert, prices vary, but average is $20-40 bucks.
I currently have one available to convert. *New Price
GTZ/Z26 (Z04) Front Turn Lamps. Price Will Include:
Permanent conversion

of the front lamps (L&R) provided to me for conversion. I will need these to be intact with no cracks. Dirt, light scratches, etc are not a problem.
12 surface mount normal intensity amber LEDs will be installed for the running light circuit. (2 strips of 6)
18 surface mount high intensity amber LEDs will be installed for the turn/hazard circuit. (3 strips of 6)
6 inches of wiring support, connected to an 1157 bulb base will be included for direct plug-in to existing harness.
2 - 25W load resistors will be included with mounting hardware. (one for each side). These are about 5 bucks each. Alternatively, if you have already installed an LED compatible flasher for BOTH the turns and hazards, you might not need this and can save $10 bucks. However I recommend these.
Shipping to you.
Price is $131 for a converted pair that you provide.
There is a lot more work and time involved in making these.
I do not have Z04 lights available to convert at the moment.
Tail light panel inserts. These are the modified panels that can be inserted directly into your tail light. I am now building both US and Euro versions. Prices are below. US version have an optional package of customized lighting that can be changed when you want. You get the following with the US tails:
Two insert panels (one left, one right) for both rear taillights.
They come with 2 strips of LEDs for EACH horizontal section of the tail light. A lower intensity for running lights, and a higher intensity for turns/brakes/hazards.
Also installed with 2 rows of high intensity white for each horizontal of the reverse light section. (The bulk price of all the LEDs for both the lights cost nearly $160 dollars).
Included is one 1157 bulb socket adapter and one 1156, for OEM installation. You will not need to use more than these two connections for the light to work properly. You will use the two highest mounted plugs, the other 3 original bulbs just need removed and installed without the bulbs. Load resistors are included with the kit and are recommended for use to properly activate the flasher for both turns and hazards. They are installed on the support behind the left rear wheel well and tied in to the harness inside the trunk. (Note: You may be able to use an LED or LED compatible flasher instead if you wish, this can save you 20 bucks, but it may not work in all instances).
You get these differences with the UK versions:
Two rows of high intensity amber/yellow LEDs for the turn section. The lower section will get the lower/higher intensity setup as above. Now the backup section may depend on what reverse lenses you use. The Euro ones are different than the US styles. They only had one bulb socket and used a reflector panel on the other. If they were mine, I would use a set from the US style, but its up to you. I will have to build them a bit differently I think if we are working with the Euro versions, but I don't think this will affect the cost. Till I build the first set of Euro for someone, can't say.
You do NOT have to ship me the lights, unless you don't feel comfortable taking apart the light housing to install the panels. If I do them for you, there is an extra $25 dollar fee, which includes cleaning, polishing, paint repair, and resealing of the light before returning it to you.
This is not a PERMANENT change.
These panels can be removed and put back to stock condition without damaging the light or the vehicle.
Price is currently $386 for a pair. Euro style are $395 for a pair. Again, if the lights are being shipped to me for installation, its an additional $25.
*new
For the US versions, I can add on a simple circuit that will allow custom modification of what sections of the light do what.
You can see mockup's of what I mean below
. It will be a bank of switches (24 dip switches, 12 for each intensity) that can turn off or on the lower and higher intensity LEDs across each horizontal as well as two sections vertically. The reverse section is not affected. This will allow you to customize and make some patterns. With all switches set to ON, it looks/works like a stock setup. Price for this addition is $50 to cover the hardware and labor.
DISCOUNTS. Yes, I have discounts if you buy multiple sets of lights at the same time. Here is the breakdown:
Buy one type of conversion (example, just a 3rd brake, or just a set of side markers) that is full price.

Buy a combination of 2 conversions (a 3rd brake AND a set of side markers) and you get a 5% discount on the total.

Buy 3 conversions and you get 10%!

Buy all 4. You get a whopping 15% off of all the lights. Its over a 100 bucks off!
I also provide a full breakdown of where all your money goes and what its for.
The following steps are taken to ensure quality work:
All parts are thoroughly prepared and cleaned prior to assembly.
Depending on condition of the lens, some basic sanding/polishing may be performed. I also do what I can to restore the factory look of parts, or I can do custom paint work to darken or brighten a light assembly. Using black, white, chrome, etc.
All internal electronic parts are soldered and fully tested at each stage of assembly.
All gaps, entrances for wire, and assembly is sealed with high quality clear silicone. With the rear tails, if I'm installing the panels for you, new bu-tel (the tar stuff) is installed, and I do what I can to best seal the lights to factory standards.
All items are individually wrapped and protected as best I can against shipping damage and insured for an amount to cover your investment.
FAQs:
Do I need resistors?
Only for the front Z04 style turn/marker lamps and the rear tail lights. The Side marker and 3rd brake lights do NOT require load simulation resistors.
How long will it take you to build a set?
Depending on my computer shop workload, 2 weeks to 2 months. May sound bad, but just being honest. I know some have patiently waited longer.
I now have two builds commencing this next week 1-7-13 with a total of 8 housing conversions.
Will these lights cause my vehicle any problems?
No they shouldn't. If you have problems however contact me.
Will I get lots of attention using your lights?
Possibly. Depends on to whom and how you show them off. Results may vary.
Are these lights legal?
Good question! If you are using the OEM factory colored lenses with the conversion, I see no legal problems. With clear lenses and the correct color LEDs, its a maybe. However, with colored lights other than red/yellow,(like white with clear) it will depend on who and where you get pulled over. Keep in mind, my conversions are NOT registered with DOT. So by that standpoint alone they would not be approved if they want to get technical. But if you keep with the legal colors, it shouldn't be an issue.
The use of any modified light sold here however is at your risk.
As of Feb 6th 2013, one member has been pulled over. But it was for clear lenses running white LEDs.
*New
Pictures: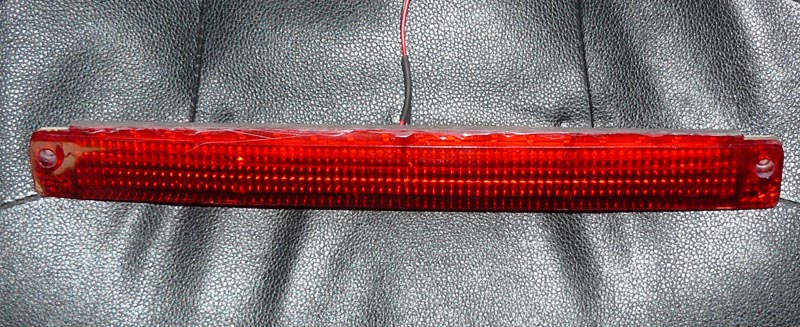 3rd brake after assembly.

Clear lenses with pigtails. (these were ver 1.0) Current build comes without the tabs.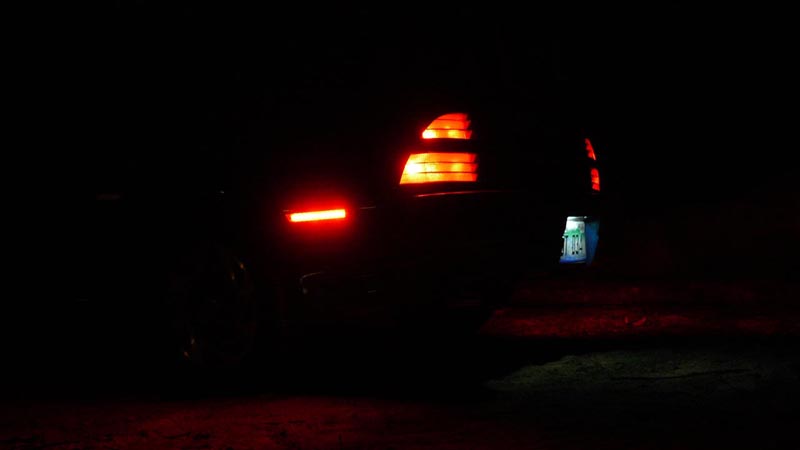 Night shot, showing level of light on the ground, etc.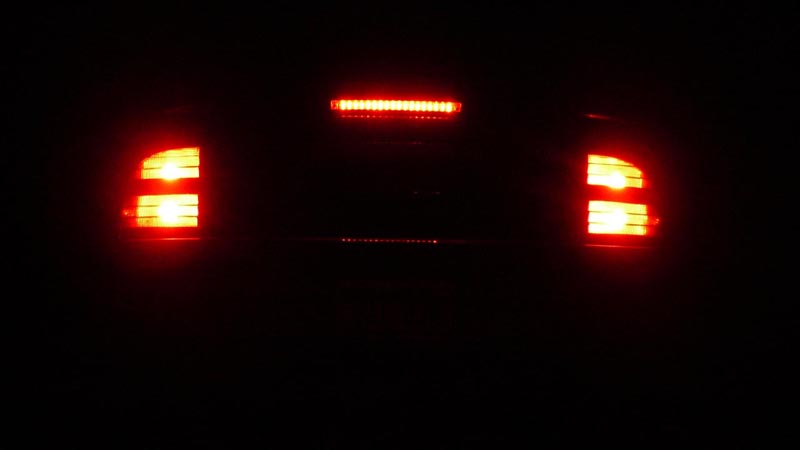 3rd brake (Z04) lit up at night.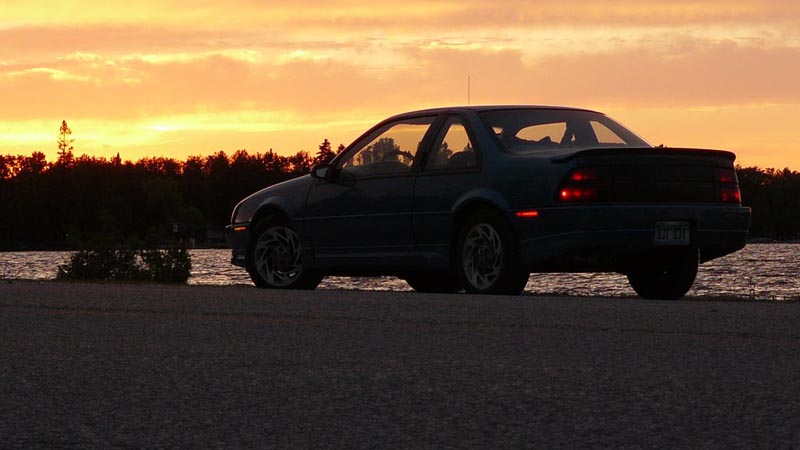 Profile with the markers lit up.
Questions, by all means ask. Please note this is a sale thread. If you wish to discuss things outside of direct sales questions/concerns, please post them in this thread here:
LED Facts and How To's..
Please send me a PM or send me an e-mail from the board with your requests for builds, time, pricing, shipping, and payments. Do not post personal information here.
Thank you.
Updates today February 18th: I have switched to using a brighter LED strip light for rear or front facing lights. The side markers do not need this change, as they are bright enough as is. This is primarily aimed at 3rd brake lights, front or rear tail mods. The new lights are about 2-3 times brighter than the strips I have been using, with no change as to the quantity per inch or the width/thickness of the strip. They do however use more power and actually produce heat. My suggested usage would be with braking or turn lights, as they would not be on for long periods. Questions, please visit the last page or send me an PM.
Updates February 20th: I have finalized the mock up of Z04 Front Turn lamps, using BRAND NEW clear lenses that I just bought on Ebay last month. Took a cutoff wheel on a dremmel and went to town. The pics located here are what I have ended up with. They are not completed yet, I still have to solder up the 3 leads for running lights and turns/hazards, connect a bulb base, then clean and seal. I think I also will have to use some sort of non-conductive paint to cover the circuits around the LEDs, so they will blend in better with the black paint I will be doing the back of the plexi with. Suggestions of brand of paint brush style paint to use will be helpful. Thank you.
Updates March 20th: I have completed circuit testing of the Z04 front turn lamps. Will soon have the BETA version of these lights built and ready for field test in the Z this Spring. Will start making these for others as requests come in. Pics to follow later this month.
Updates January 5th: A lot has been going on the past few months. As of this update, I am able to build many of the housings into fully custom LED converted models. Prices are updated. I currently have 2 members of the board with builds being done over the next couple weeks. One is for member timgerman. I am currently building him a conversion that includes all 4 side markers, 1 3rd brake for a Z26/GTZ style, and a full set of rear tail inserts! The other is snowblindbird (Mark), I owe him a 3rd brake as well, so building it at the same time. Pictures WILL be following soon, will keep you all updated here in this thread.
Updates January 7th: Just added the Euro tail pricing. Also added pricing for the custom lighting circuit for the tail lights. The first set I'm building for Tim, will have that circuit for free, so he can try that out and see what he thinks. Pics and work updates will be added to this thread as the build develops.
Updates February 5th: Lowered the pricing of the 3rd brake Z26/GTZ by 9 dollars after realizing there were fit issues using 2 strips of high intensity red LEDs. Price is once again $54 as they were originally!
Updates February 6th: Added the note about legality regarding clear markers and white LEDs.