Connect with your social network account
Looking for the 2 bars, let me know and how much and how much for shipping...

Also looking for a driver side door and rear quarter door molding for my gtu...I would need the one with the black on top and bottom with the red in the middle...thanks
---
---
If it helps make it easier to find for you, that door and quarter panel molding is not GTU specific; it was on 89 GT's as well.
---
Registered User
Posts: 1111
Joined: Mon Apr 05, 2010 9:10 pm
Has thanked: 2 times
Been thanked: 4 times
theres a white gtu at the yard near me with a red interior... you should hit that baby up.
1991 beretta GTZ- 2.3l w41 cams, ported 086 head with a 3 angle valve job, fidanza flywheel with exedy racing clutch, 3.94fdr from and scx, so much more..
---
where is this yard at speedy?
---
Registered User
Posts: 165
Joined: Mon Jun 28, 2010 1:54 am
Location: Slatedale, Pennsylvania
It's at EZ-Pull in New Ringgold at the end of a row in the middle of the GM section...shame most of the rare parts on it are broken
~1991 Chevy Beretta GT - 3.1L, automatic

---
Global Moderator
Posts: 1934
Joined: Tue Jan 24, 2006 6:48 pm
Location: Lakewood, Colorado
Has thanked: 9 times
Been thanked: 6 times
Contact:
As mentioned, I have the radiator bars.
BFest 2013: Denver Colorado Host & Committee Member
Winner: Best Custom Late Model Interior
Gopher Award - Tin Foil Award - Banner!
---
Registered User
Posts: 1828
Joined: Mon Jun 28, 2010 9:02 pm
Location: Wisconsin Rapids, Wisconsin
Contact:
JAWS89GTU wrote:Looking for the 2 bars, let me know and how much and how much for shipping...

Also looking for a driver side door and rear quarter door molding for my gtu...I would need the one with the black on top and bottom with the red in the middle...thanks
Here is the door molding I came across with some minor clear peeling as pictured.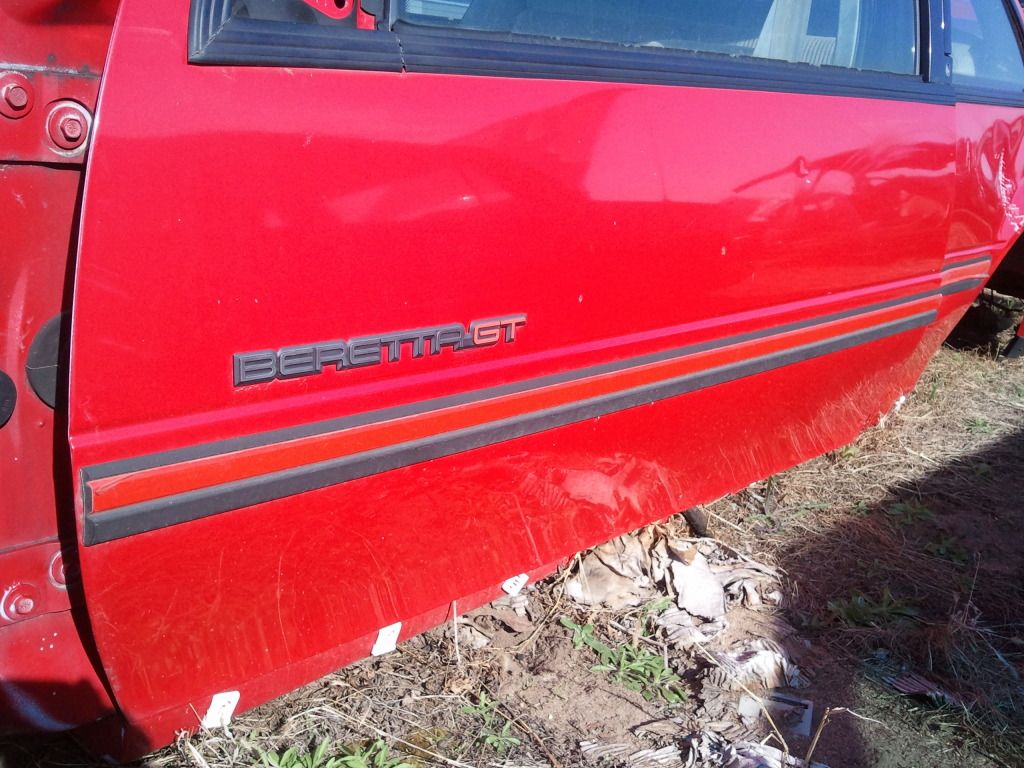 I also have the radiator support bars.
LMK, if you're still looking for these parts or anything else.
---
---
Who is online
Users browsing this forum: No registered users and 10 guests