Connect with your social network account
I have a beretta gt that I'm putting the full Getz kit on can someone help me wire my fog lights please and sorry if this was covered in another post
---
Registered User
Posts: 973
Joined: Sun Mar 23, 2008 10:58 pm
Location: canananada
4th one's a charm, 5th one is, beginnning to sound like this is an addiction...
95 black z26, '96 White z26 awaiting new life, and 2.5 mazda trucks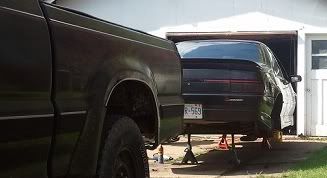 ---
Administrator
Posts: 10774
Joined: Thu Jul 05, 2007 9:18 am
Location: Brooklyn CT
Has thanked: 12 times
Been thanked: 50 times
If you are doing the factory switch it's a bit more involved...You need a wiring diagram to see which pin on the light switch controls the fogs, then you need to wire that out to the engine bay and control a relay from there. Stock fogs are relay controlled but also integrated into the high beams so when those are on the fogs are off. Luckily with aftermarket install like this you can put in a relay that will turn the fogs on with the headlamp switch and they stay on even when you turn on your high beams. At least that's how mine is wired.
---
Registered User
Posts: 4213
Joined: Thu Jul 11, 2002 8:45 pm
Location: Walton, NY
Has thanked: 4 times
Been thanked: 9 times
Contact:
Yup, Jon is right on the money. And that's really the best way to do it.
91 "SS"
WOT 3400/5spd - EP, FFP, TCE, SPEC, DSS, S&S, OBD1
GEARHEAD dezign
---
Registered User
Posts: 688
Joined: Sun Mar 23, 2008 7:30 pm
Location: Salt Lake City, UT
Has thanked: 1 time
Been thanked: 4 times
Stock fogs are supplied power to the switch by the park lights and then the switch power runs and operates a relay that is located in the driver side fender behind the battery.
---
I have the switch is there a diagram floating around?
---
94-96 have relay in the dash harness. 91-93 should be prewired it for it in the harness and have it in a fog light harness. If you have a 94-96 you can add a pin to the harness and run a wire to a relay.
1990 has the switch in the overhead with relay near the battery.

The wire is one of the yellow wires. If i remember i will update this

1990 Beretta GTZ 1995 Beretta Z26 1996 Beretta Z26
---
Hey guys I have a 88 gt and I already have a 94 dash and the oem gtz fog light switch can someone give a diagram
---
This is a diagram for a 95 Beretta. I'm sorry the text isn't completely clear, I couldn't get it to convert correctly from the PDF file. The wiring will be different from an 88 and may be unique to 95, but it will at least give you an idea of what you're looking for. If I had my manuals here I could give you a much better picture of what you're dealing with...
-Jeff P.
Black '88 Beretta GT
Spice Red '06 GTO
Previously Owned:
'89 GT, '91 GT, '92 GTZ (12.95@105 mph), '01 Bonneville SSEi
---
Registered User
Posts: 688
Joined: Sun Mar 23, 2008 7:30 pm
Location: Salt Lake City, UT
Has thanked: 1 time
Been thanked: 4 times
Pre 91 cars had their own, separate wiring for the fogs that was powered from the park lights (brown wire that ran up to the OH console) and from the switch was a yellow wire that ran out to the relay. At the relay there was a red wire that went directly to the battery through a fusible link, green wire that went to the positive side of the high beams, black wire that was a body ground, and a purple wire that went to the fog lights.
---
---
Return to "Electronics and Audio"
Who is online
Users browsing this forum: No registered users and 1 guest