Connect with your social network account
Registered User
Posts: 885
Joined: Sat Jun 18, 2011 9:48 am
i'm going vintage b/c i hate all this new mp3 stuff and i dont have cd's anymore. simply b/c i listen to internet radio in the house. what are the odds that the old cassette decks still function? there are couple in a yard nearby i might could grab for 25 bucks or so. i dont want to bother if chances are they are shot beyond being able to listen to cassettes
---
Registered User
Posts: 1062
Joined: Fri Jun 04, 2010 11:10 am
Location: Sidney, Ohio
Has thanked: 2 times
Been thanked: 3 times
Contact:
I don't remember any cassette players not working? Worst case scenario you might have to run a cleaner tape through it.

Do you have a smart phone? As in Android powered or something like that? If so you should get a new headunit that has Bluetooth built in.

I got a Alpine headunit that costs around 160 with tax. It has Bluetooth capability built in. You can access your recent calls list, contacts etc etc.. also it can play the iheartradio or Pandora app straight from your phone. You don't have to touch your phone at all. Everytime you get in your car it automatically connects and starts up the radio app last played. It's worth every penny. If you ever drove a 09+ GM car with built in Bluetooth, the phone end of this headunit works the same. When you get a call it will notify you through the car speakers and you push the button on the headunit to answer it. It has a microphone that you can mount anywhere.. I got mine on the top of the drivers side a pillar I think its called. Whoever calls can hear you clearly without the echoeing.. I have talked to people on the factory setup in my '10 Malibu and whoever I'm talking to can says everything the same when I talk to them in the Beretta.

Anyways, that way you could listen to music without touching cds or cassettes
Last edited by
SummitBalt08
on Wed Apr 11, 2012 2:07 pm, edited 1 time in total.
-Shawn
Been on the Beretta Forums since '04

94 Black Quad 5 spd
Z26
->3500 6 spd
ZR6
Bfests '11,'12,'14
July 2012 Bnet Calendar
---
Registered User
Posts: 885
Joined: Sat Jun 18, 2011 9:48 am
nah....no android here.

i purposefully want to go vintage and get a tape deck. i have some old tapes laying around and prefer the music much better than new junk. i dont have that many cd's any more, maybe ten at the most. the mp3's i have are ripped from old cd's or youtube videos.

if i did have android though i would get pandora. XM/sirius just didnt cut for me either. i had xm for about a year and reception was an issue here.

i figured if i could grab a working deck and get some use out of the old cassettes i could be satisfied. apparently cassettes are making a comeback too, according to the washington post article i read a while back.

vintage is full of win
---
Registered User
Posts: 297
Joined: Wed May 29, 2002 5:40 pm
Location: Chicago
Contact:
Buy one from a junk yard that will do exchanges if it doesn't work. Some places are nicer about that than others. You'll probably just need to clean the dust out of one since most cassette players get no use.
---
I still have the factory cassette player in my '88 GT. I still have not found my cassettes yet to be able to test it though.
GW Bancroft (on FB)
'91 Black GTZ
'93 Quasar GT 5-Speed (Under Construction)
---
Registered User
Posts: 578
Joined: Thu May 10, 2001 9:33 am
Location: Rockford, IL
Contact:
the factory tape deck works perfect in my 95 tahoe, i use it daily
---
Registered User
Posts: 973
Joined: Sun Mar 23, 2008 10:58 pm
Location: canananada
yes they are usually still in working form, but beware of the few that'll chew up your dance mix 95 tape... it's sad when that happens
4th one's a charm, 5th one is, beginnning to sound like this is an addiction...
95 black z26, '96 White z26 awaiting new life, and 2.5 mazda trucks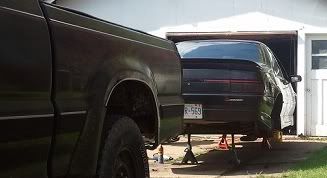 ---
Lol, that's funny! I actually have a Summer of '95 mix tape. Gotta find them tonight when I get home... On a mission!
GW Bancroft (on FB)
'91 Black GTZ
'93 Quasar GT 5-Speed (Under Construction)
---
---
Return to "Electronics and Audio"
Who is online
Users browsing this forum: No registered users and 2 guests