Connect with your social network account
Registered User
Posts: 60
Joined: Fri Dec 29, 2006 8:34 am
Location: Rock Falls, WI
Contact:
MARK YOUR CALENDARS FOR THIS EVENT. This is the Second Annual "Mid West Mini-Fest." Last year we had a GREAT turn out, and lots of fun. This year will be even better!!! Don't miss it!! :rock:
Rock Falls, WI.
MAPQUEST VIEW.
Please note for Mapquest purposes, our address is N1033 County Road H, Mondovi, WI 54755. But we live IN Rock Falls.) We are easily accessable off of Interstate 94. Less than 15 miles away from Eau Claire, Mondovi, Elk Mound, and Durand, WI. We are also located ONLY 3 miles from the Rock Falls Raceway/Dragstrip! Here is the house to look for, that you will be meeting at Friday night/Saturday: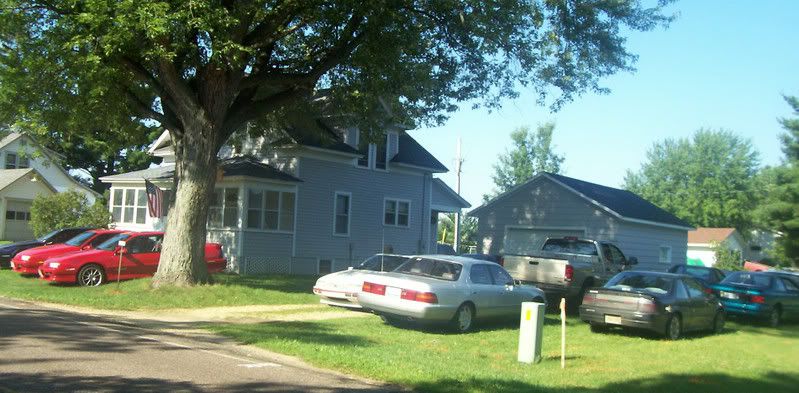 July 18-20 (Friday afternoon->Sunday), 2008
Drag Racing (
Please Click this link to view all info, rules & regulations if you plan on drag racing)
, bonfire, bbq/cookout, camping, day-cruise,
Gemini Drive-In Theatre
,
ACTION CITY
... you name it, we got it...
Friday Afternoon/Night:
Meet & Greet at
N1033 County Road H, Rock Falls, WI(please see mapquest link above)
,bonfire/cookout.
Possible Group Cruise through winding roads/country to Mondovi (15 mile drive from Rock Falls)
Pizza in Mondovi
Saturday:
6am-9am Group Breakfast at house.
8:00: Head to drag strip (those who are racing)
9:00-3pm?: Watch Drag Racing/Drag Race, BBQ at the races, hangout (Please note if you do NOT wish to attend the drag races, there is PLENTY to do in our area, just ask and I will be more than happy to provide you with information.
)
4pm-7pm:Action City
8pm?: Drive-in Movie (movies to be announced)
10pm-all hours of the night: Bonfire/hangout in Rock Falls
Sunday:
When everyone wakes up
: Group Photos at Rock Falls Park
9am:Group Breakfast at Perkins(or other restaurant of choice)
11am: Group Tour of Leinenkugel Brewery/Lodge +FREE beer samples
Early Afternoon: Goodbyes and farewells.
We do have floor space for sleeping, a yard to set up tents, or I can get you the closest hotel/campground info, for either Eau Claire, or Mondovi.
PLEASE
let me know if you will be staying at the house, so we can reserve a "spot" for you.
What you should bring
:
*BRING YOUR OWN DRINKS
*pillows, blankets, sleeping bags, and towels for showers(if spending the night at the house)
*walkie talkies/talkabouts (if u have them, they come in handy when cruising around in groups)
*Money for: the drag strip, Food, drive-in movie, gas, action city, etc.
*Food to share.
*Your car/vehicle :rolleyes:
*
PLEASE bring your own LAWN CHAIRS
Any questions, feel free to PM me!
If you are FOR SURE coming, please add yourself to the YES list, if you're a MAYBE, please add yourself to the MAYBE list. If your yes changes into a maybe/ vice versa, please let me know, so we can plan food etc. If you'll be bringing a guest put "Your name + 1" etc.
Yes
1.Kelly
2.Devon
3.Turbo91/GT
4.
5.
6.
7.
8.
9.
10.
Maybe:
1.Scannerman
2.fastlane02
3.Shivand12345
4.berettaspeed
5.NocturnalGTU
6.BowtieBrat + 1
7.K_Watson +1
8.wickedirocz
9.LethalR/T
10.dissimulated
11.Moded-Z34
12.JACE323
13.Hawes
14.CatAttack420
15.93Beretta
16.doughboy[b]
17.Abacad37 +1
18.ROLNGTZ
19.Fanky
20.king zip
21.
22.
23.
24.
~*~*~*~*~*~*~
Here are some photos from last year's event:
At the DragStrip: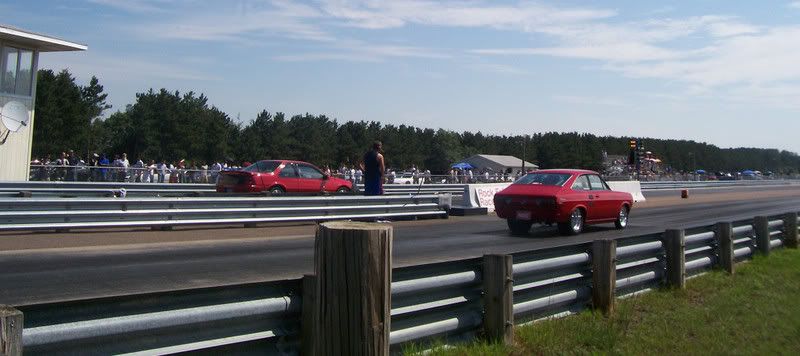 Group Photo at the Park:

Our Front Yard Sunday Morning: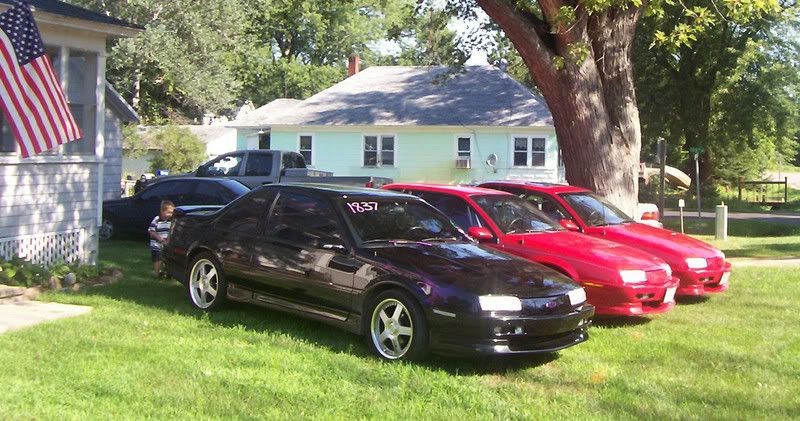 Devon Whitman
94 Quad Zed
Bfest's Quickest Normally Aspirtated Quad 4
---
Registered User
Posts: 276
Joined: Wed Jul 02, 2003 4:45 pm
Location: Illinois
Contact:
i call the parking spot in the front yard next to the tree.
2009 Cobalt SS LNF
1995 Z26 3100 auto <--- Totalled
1989 base 2.8 auto <-- Sold
---
Registered User
Posts: 60
Joined: Fri Dec 29, 2006 8:34 am
Location: Rock Falls, WI
Contact:
BTW We're not responsible for tree branches falling on cars.

Kelly's car got attacked last summer and has some war wounds
Devon Whitman
94 Quad Zed
Bfest's Quickest Normally Aspirtated Quad 4
---
What is the tech inspection like, what do they look at?
---
Registered User
Posts: 1028
Joined: Thu Feb 20, 2003 11:21 pm
Location: South Central MN
I wouldnt worry about it if your car is close to stock.
94 Beretta Z26 57,4xx miles
3100, auto, crank windows, power locks/trunk, A/C,
To many mods to list
-intercooler

Among beretta boards
1st Turbo 4t60-e
1st Turbo 3100
1st Turbo Z26
1st 94+ Turbo
---
Registered User
Posts: 60
Joined: Fri Dec 29, 2006 8:34 am
Location: Rock Falls, WI
Contact:
just make sure your battery is secure and you have a helmet, oh and LONG PANTS, they will not let you race unless you have those
Devon Whitman
94 Quad Zed
Bfest's Quickest Normally Aspirtated Quad 4
---
---
Who is online
Users browsing this forum: No registered users and 2 guests