Connect with your social network account
Hahaha I appreciate that.

When it comes to work like this there is some planning involved .....but I just take chances and go for it. I dont always know what's gonna happen and most of the time u discover things as u go and adjust and modify. ...its only metal....
---
Registered User
Posts: 1208
Joined: Sun Mar 12, 2006 12:11 am
Location: Rochester New York
Has thanked: 1 time
Been thanked: 3 times
Contact:
Interesting hood concept. Awesome seeing crazy idea coming together the way it is
93 GT cammed 3500 EP LSD, headers,intake,wilwood,poly/delrin mounts, 2.5 S.S,Exhaust,dickman kits,GTUspoiler,Euro headlights-tails-mirrors-fender flares-spoiler,Intrax/Koni,91+blk interior,rr disk swap,s.s.clutch line
---
Hood progress coming along nicely. Body work done, all blocked out and reprimed.
---
Registered User
Posts: 4044
Joined: Thu Jul 11, 2002 8:45 pm
Location: Walton, NY
Has thanked: 4 times
Been thanked: 7 times
Contact:
I was having an awful hard time liking it before...the lines just didnt seem to work well together. But that looks a whole lot better smoothed out. Nice work.
91 "SS"
3400/5spd - EP, FFP, TCE, SPEC, DSS, S&S, OBD1, 13s?
GEARHEAD dezign
---
Thanks. It's hard to see in the pics but the hood feature lines point right at the inner upper corners of the headlights and that shape change on the front of the hood .....even those lines flow with the Plainview of the wide body fenders quite well. I was pretty happy with how this was turning out. And it is a big part of my Z28 theme
---
And yeah being one color really helps to visualize
---
nice progress!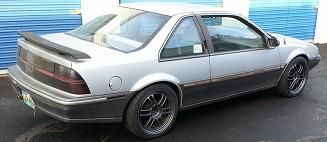 88 Beretta CL
- your average grandma car.. Ls1 swap in progress
77 Celica
- needs an engine swap
96 Geo
- 1.0L, Cam, 3 angle, cam gear, magnaflow, Koni, H&R
86 Subi
- rally car
---
---
Who is online
Users browsing this forum: No registered users and 5 guests