Connect with your social network account
Global Moderator
Posts: 1909
Joined: Sun Nov 03, 2002 4:10 pm
Location: Concord, NC
Has thanked: 8 times
Been thanked: 17 times
Contact:
Due to the recent spark of interest in the Facebook group, I decided to upload several pictures and information I've collected over the years with everyone else. I'm not sure who else might have seen these pictures or have this information, but I figure it's best in the hands of people that could use it.
Recently it was determined that 2 of the 3 original yellow convertible Pace car concepts are in existence; one that stays at the Indianapolis 500 Museum, and another that is at a Chevrolet Museum in Decatur, IL; both powered by the custom built 3.4L V6 (which is spec'd out below). Whatever happened to the 3rd vehicle is unknown (it was said to have been given to the winner of the race, Arie Luyendyk, but he was reached out to and does not have said car. One story is that the car had an electrical fire in the pits and that's why there are only 2 yellow ones accounted for. Supposedly there was a teal coupe made with the custom 3.4 as well (which the pictures below depict), but nobody knows where that car or engine is.
Some pictures people have seen in the past, others, maybe not...
One other thing that has been tossed back and forth - some people report 225HP and others report 245HP - I tend to lean to the 245HP as that's what journalists were writing about back in the day!
On to the info and pics!
Courtesy of davidb's old website:
The Beretta was chosen to pace the 74th Indianapolis 500. To commemorate the event, Chevrolet produced 7,500 replica coupes - 6,000 in teal and 1,500 in yellow. There has been some debate about these figures, as a recently published book titled "Indy 500 Pace Cars" lists 4,500 replicas, of which 3,000 were teal. GM Press releases list 7,000 teal models.
Many people think that the Beretta Indy was the first GM V-6 to lead the pack at Indy, when in fact it was the Chevy Fleetmaster in 1948. GM V-6 engines also powered the pace cars in 1976, 1981, 1983 (Buick) and 1989 (Pontiac).
The actual pace car was a yellow convertible, which was piloted by Jim Perkins, General Manager for Chevrolet. Chevrolet provided three convertibles for trackside duty, one to serve as the pace vehicle, the other two in reserve. At this time I am unsure how many Berettas tool part in the pre-race parade. The 1990 Indianapolis 500 Yearbook states "although a Chevy Beretta paced the field, the usual fleet of matching pace cars wasn't completed in time for May." Photographs on the excellent Pacecars.com seem to back that up, as they depict a lone yellow Beretta convertible parting a sea of yellow and teal Corvettes. A number of mechanical modifications were performed to the actual Pace Car (not the replicas). Horsepower increased from stock 135 to a respectable 225, good enough to run the 1/4 mile in the mid 14 second/100 mph range. The block was opened from 3.1 L to 3.4 L. Gen-II splayed valve aluminum heads (PN10048649) were used, along with a hand built intake plenum sililar to that of a Corvette TPI motor. Additonally, a cross-drilled crank, heavy duty rods, fly-cut pistons, a Crower cam, and custom built headers were also used. The transmission was also swapped in favor of a new Hydramatic 4T60-E, which was designed for the 91 Buick Park Avenue. The stock airbox was tossed in favor of full on custom "ramair" boxes, mounted behind the airdam. Basic hot rodding techniques such as external oil coolers and additional fans were used to keep everything cool. A custom chip resides in the stock computer, and also controls the electronic transaxle.
The suspension on the actual pace car retained GM parts, but in a unique configuration. 1989 Beretta sway bars with 1988 Beretta sway bar mounting hardware were installed (with aluminum bushings there and on the tie rod ends), along with support bars from the shock tower to radiator support. A shock tower brace is also visible in some photos. The rear axle was gussetted.
The vehicles were also given the full complement of safety equipment, including a full set of strobe lights. Four amber strobes were flushed into the rear filler panel, with additional strobes molded into the "rollbar".
The replicas feature color-coordinated seat trim and wheels, and an unusual "hybrid" body package. The bodywork featured the "eggcrate" grille and ground effects from the 88-89 GTU, finished off by the rear spoiler from the '90 GTZ. The replicas also featured the high level FE7 suspension package used in the GTZ. They were available with both the TH125 3 speed automatic transmission and a 5 speed getrag manual model. I do not have production numbers for automatic vs. manual, although I would bet that there are more automatics.
THE PACE CAR IN PRINT
From an article titled "Pace Setter", by John Baechtel, as published in HotRod Magazine 1990
"Thanks to an ongoing development program at Chevrolet's Raceshop, the 60-degree V6 boasts a full complement of high performance hardware designed to bring out its true potential. In this case, the engine's power increased from 135 horsepower to more than 225 horsepower, boosting the Berettas performance into the mid-14-second bracket at 100 mph. Enlarged to 3.4 liters, the 3.1L-based engine makes use of specific Bow-Tie hardware and selected aftermarket components to achieve a 67-percent increase in power. The primary Bow-Tie ingredients include a thoroughly developed aluminum cylinder block, high-flow aluminum cylinder heads, a cross-drilled crankshaft, heavy-duty connecting rods, and all the attendant hardware that make these components function as a team. Aftermarket sources were used to obtain the most desirable camshaft profile and high-speed valvetrain components. All of the major components are currently available through GM dealers for those interested in duplicating all or part of this effort.
To boost performance even further, the pace car is equipped with the electronically controlled 4-speed automatic transmission designed for the '91 Buick Park Avenue models. It features computerized shift control and is designed to deliver precise, barely noticeable upshifts and downshifts under normal driving conditions. known as the Hydramatic 4T60-E, the new transmission utilizes "free-wheeling" one-way clutches that deliver smoother shifting and eliminate the normal band-to-clutch overlap, which calls attention to each upshift in most automatic transmissions. While not yet available in any models other than the Park Avenue, this transmission promises to become the new standard of excellence in the next few years. The only modifications made for the pace-car application were computer-calibration changes to make it compatible with higher engine speeds and shift points.
The pace car's chassis modifications were undertaken to make certain the convertible was up to the high speed task at hand. The rear axle was gussetted at the ends of the crossbar on each side, and an '89 sway bar was installed with '88 swaybar hardware to increase torsional stability. To minimize steering gear compliance, the stock rubber-mounting grommets were replaced with aluminum half blocks, and aluminum bushings were installed on the tie rods. Diagonal braces were installed between the upper radiator support and each shock tower, and a second torque strut was added to minimize torque steer and engine roll. A Corvette pusher fan was added to improve cooling with the higher-output engine, and a fabricated air cleaner assembly was built to install directly inside the front bumper bar. Additional oil coolers were added to ensure proper temperature control of all fluids. Production electronics were used, except for a chip calibration, for additional fuel and air requirements and electronic transaxle control.
The new '90 Beretta pace car will be complemented by 7500 special-edition Beretta Indy coupes, 1500 in yellow and 6000 in turquoise. Equipped with specific interior and exterior trim, these commemorative cars will be available at Chevrolet dealerships prior to the May 27 running of the Indy 500. With these cars, performance boosts similar to those achieved through the application of the various Bow-Tie components shown here. For basic street applications, a more affordable nitrous-oxide system and assorted dress-up items are also viable alternatives for hopping up your V6 Beretta. If you plan on putting a lot of power into the engine, you may want to consider some of the heavy duty components, such as the crankshaft and connecting rods; but rrmember, going inside the engine is a major operation that you may not want to undertake. In any case, basic hot-rodding modifications applied to the V-6 engine will help your Beretta Indy coupe set the pace for the '90's."
From AllChevy Magazine, March 1990, "From The Heartbeat" column
"...the Beretta Indy Pace Car is a result of leading-edge technology in design, yet uses simple hot-rodding techniques to propel the 3.4 liter V-6 to quarter mile times in the high 13 second range and to 0-to-60 mph blasts in 5.8 seconds.... at a recent long lead press preview, I had the chance to drive the Pace Car around Firebird Raceway. At a distance, the Beretta was noticeably louder than most of the cars.... I imagined from the loud, racy rumble of the exhaust that the Beretta would be totally "tricked out" with roll bars and slicks similar to the TransAm Beretta race cars. When it pulled up, it looked like a stock Beretta, except for the bright turquoise paint and Indy Pace Car graphics on the side...... the modified engine produces 245 HP and 220 ft/lbs of torque....In first gear, the engine roared, and the needle on the tachometer jumped to 6,000 rpm. Hmm, I thought, good power and easy to control. Bam! I shifted into second, and the torque steer was incredible. The car jumped to the left and pushed me into the seat. I was already approaching 100 mph. By the time I shifted into third, I was already at the forst turn and had to down shift back into second to slow down, take the turn, and accelerate out of it...... the exciting thing about the car was not just its power, but th efact that anybody could do the same stuff to his or her V-6 Beretta and have a "street sleeper" that would utterly destroy some V-8 egos..............."
From SuperChevy Magazine, "Beretta Indy 500 Pace Car", 1990
"The rather innocuous - looking Beretta coupe turned from a Jekyll to Hyde personality the instant the ignition key was turned. From under the stock production hood came the snarling, menacing noise of a very powerful beast, combined with an unmuffled exhaust blatting away just below your left ear..... the bery loud open exhaust sounding like a coffee can full of angry wasps ready to attack. You rev it up high and slide the clutch, and youre off in a cloud to tire smoke and din of staccato exhaust pulses. The torque steer isn't overwhelming, but it does take a healthy grip on the wheel to keep this beast pointed in the right direction. The motor revs up to 7,000 rpm and asks for more, but you pull a gear and lay down more rubber on your way down the front straight (the coupe was fitted with a Getrag 5 speed, so we didnt get to sample to trick electronic automatic). It's supple and stable on the turns, although the readily available horsepower churning away at the front wheels does make for throttle-on understeer thats almost impossible to avoid. The brakes work excellently, and we needed them to stop from the triple digit speeds reached in no time flat. Once its up in the rev band, the motor sounds like something out of a GTP race car, and feels every bit as strong as 245hp in a 2800-pound car should.
We pulled into the pits and reluctantly relinquished the drivers seat to watch (and listen) as the next lucky journalist tore off in the Beretta. Man, what a beautiful sound. Chevrolet should include a tape recording of that car with each Beretta Pace Car replica purchase. I'd be in line now."
Engine Information
Aluminum Bow-Tie block, bored to 92 mm (3.4L)
Erson solid tappet camshaft with 88 deg. overlap / .562" lift (#F302F306); another source reports that a Crower flat tappet camshaft (X-8334) with .459" lift intake, .483" lift exhaust, and 30 degrees overlap was used
Isky solid lifters (#202H)
Isky 110-pound valve springs (#6005)
Melling oil pump (#10127575), repositioned pickup
Crane roller rockers (#25752-12), modified to clear inlet manifold, valve covers
cast-iron crankshaft (Chevrolet #10078981), main bearing journals cross drilled
Corvette L98 throttle body, heating system removed
fuel injectors from 3.8L Buick Turbo engine
aluminum cast pistons, 10.5:1, flycut for .100 inch valve clearance
Fabricated 3.1L manifold; new 1 1/4 x 2 inch runners; 6.5 inch through-manifold runner length and modifications for rocker arm clearance
Ported and polished inlet and exhaust ports; valves unshrouded
Custom made stainless steel fuel rails with Aeroquip fittings
Hand-built inlet plenum, similar to L98 Corvette engine
Windage tray
Custom made rocker studs from Ryan Falconer Enterprises
Custom headers with 1 5/8" diameter, 24" length, and 31" collector
Custom built aluminum ram-air inlet boxes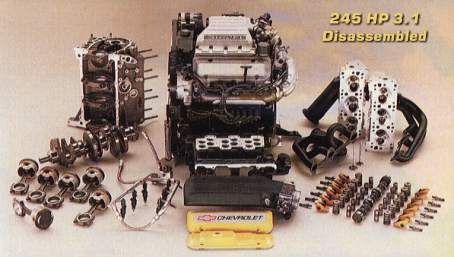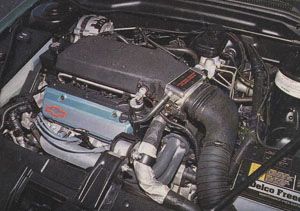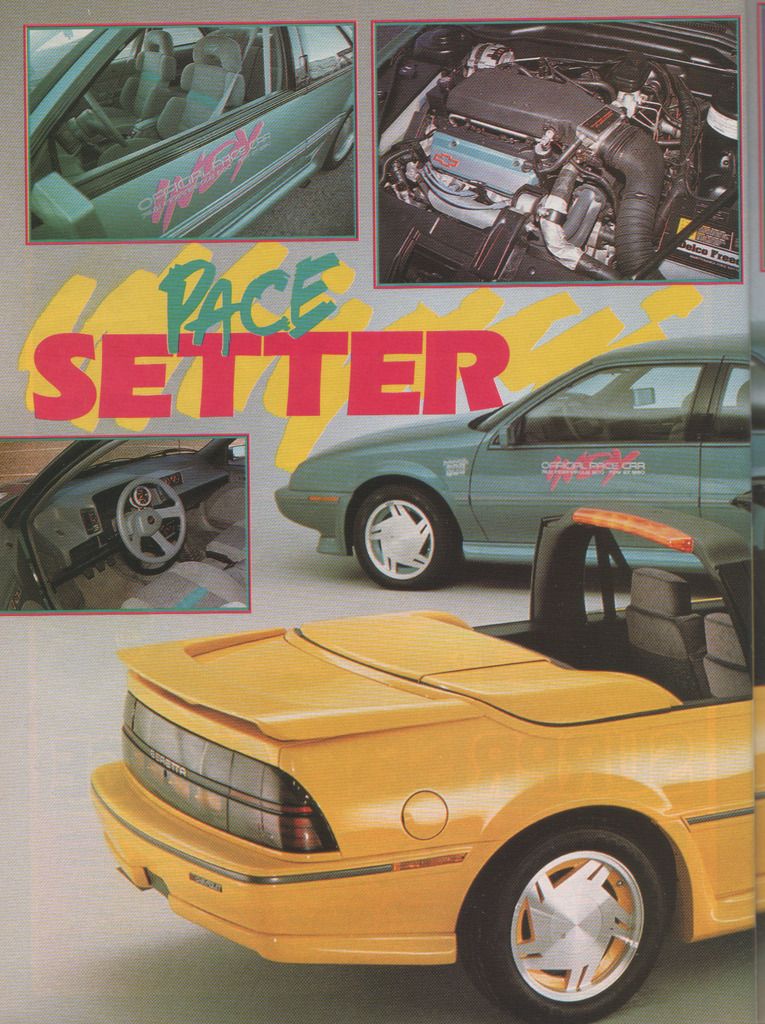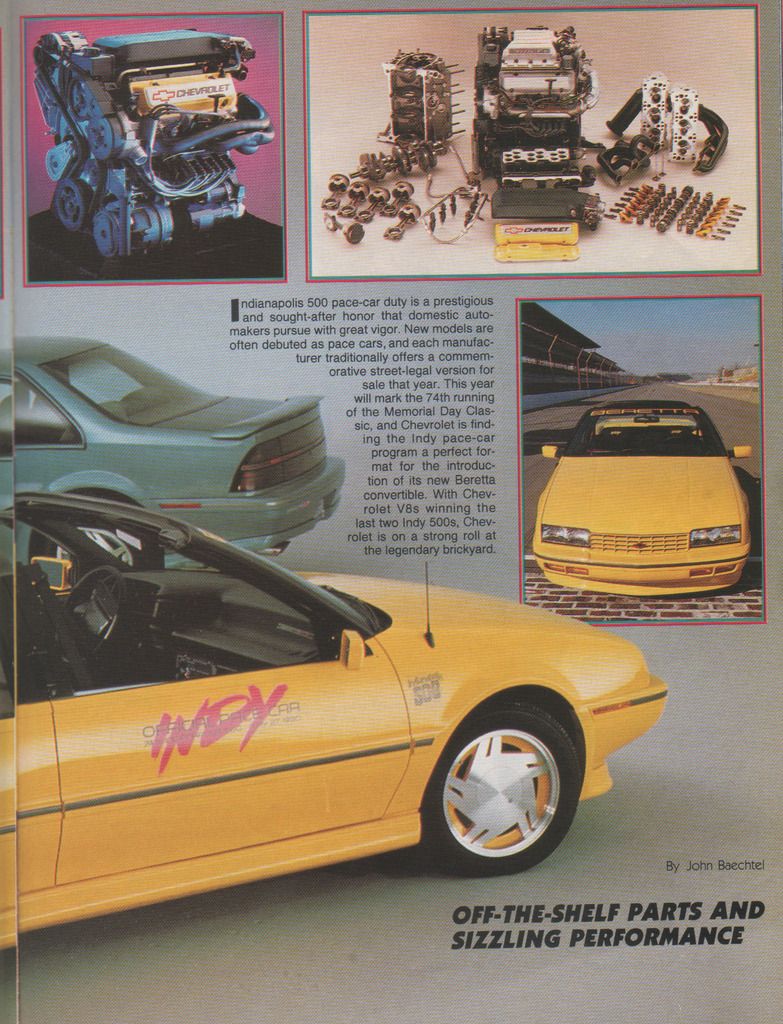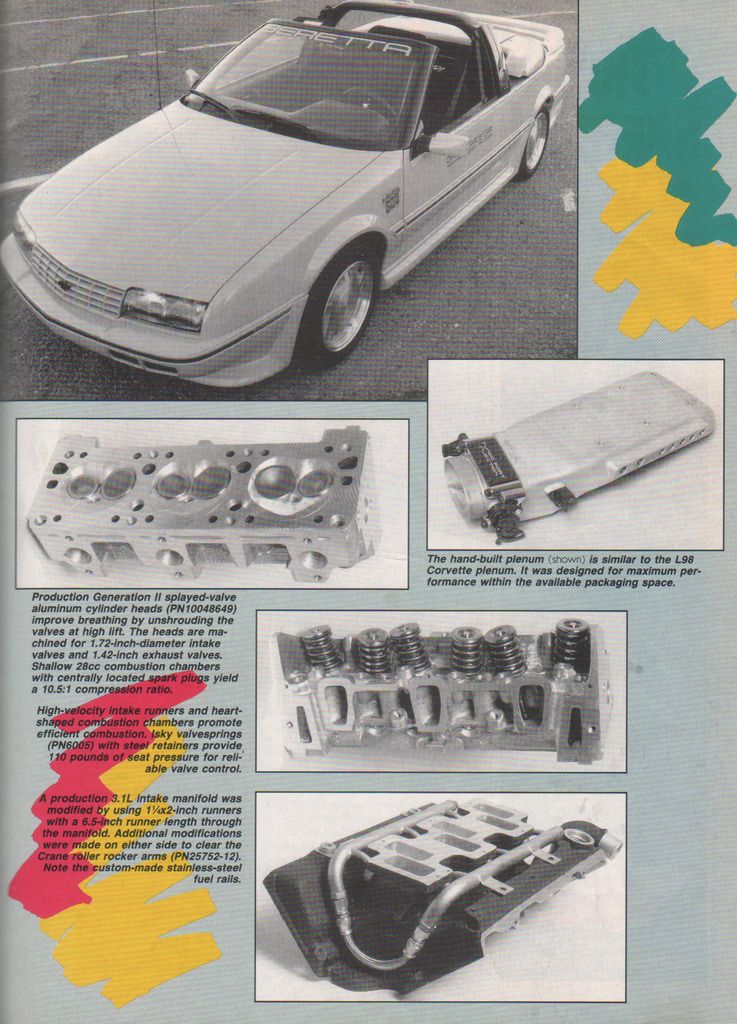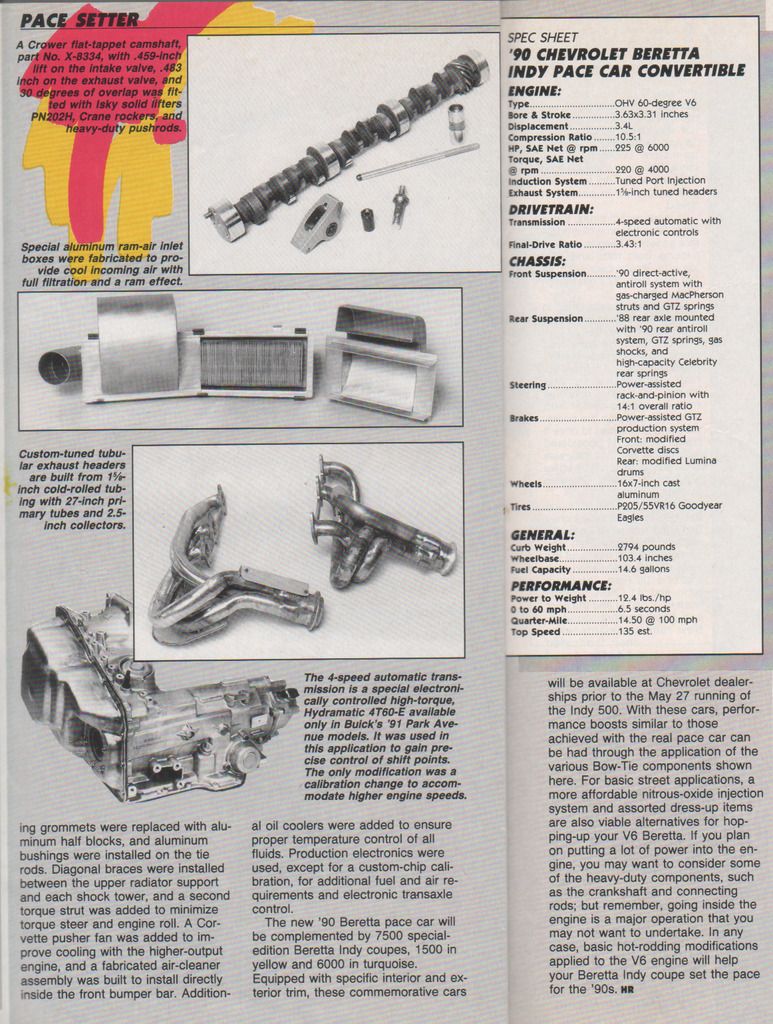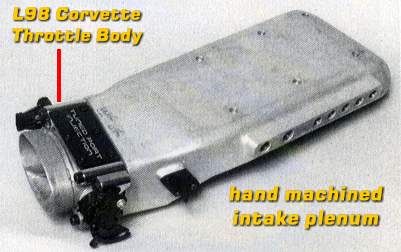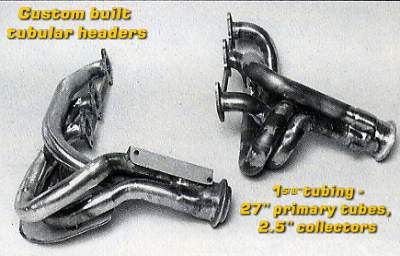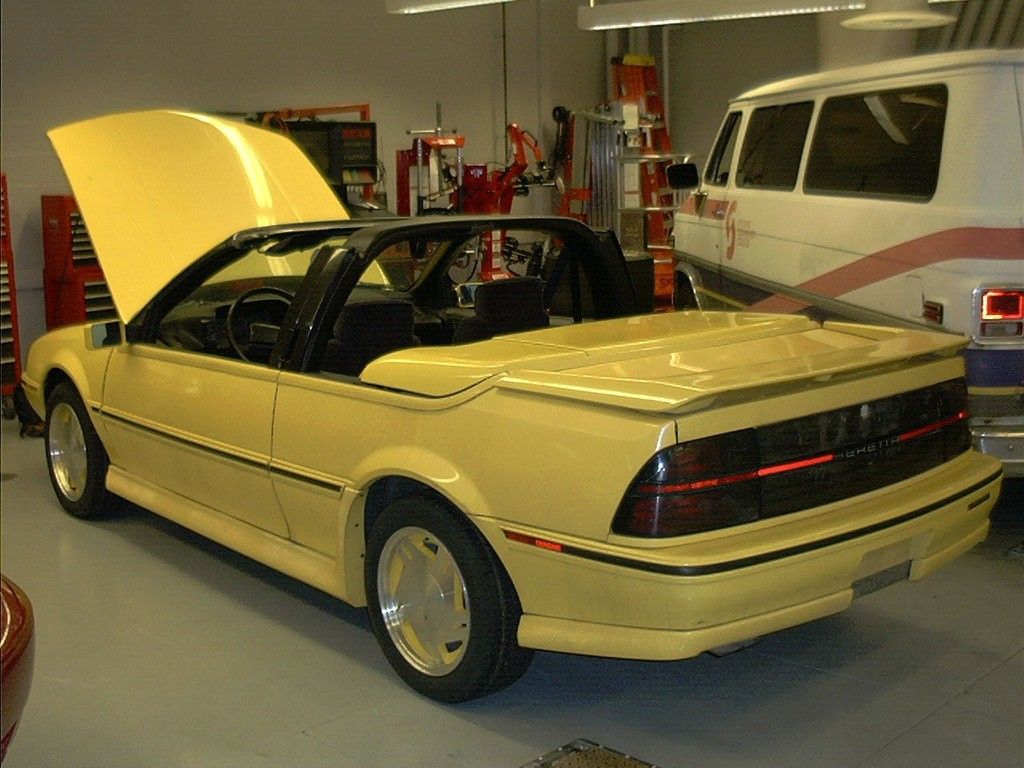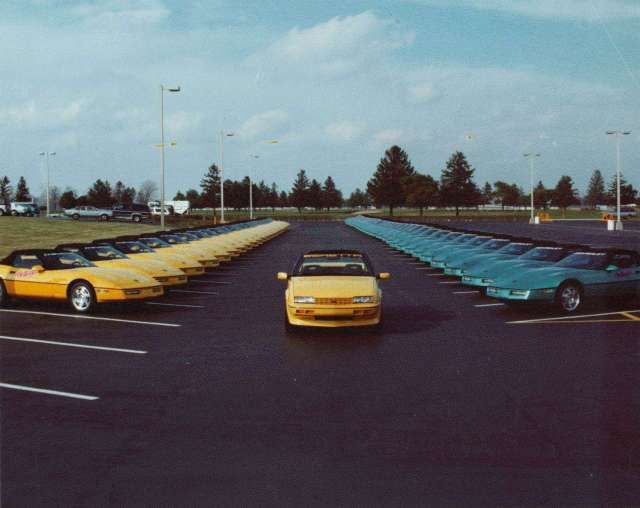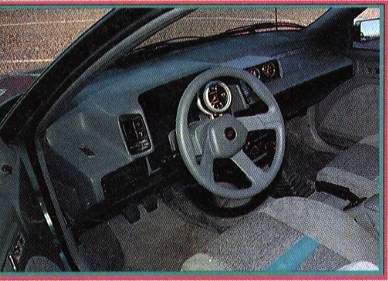 These users thanked the author heavywoody for the post (total 3):
Geoff
95 Z26 3400 5spd
Beretta Preservation Society - Director of Acquisitions
---
Registered User
Posts: 4200
Joined: Thu Jul 11, 2002 8:45 pm
Location: Walton, NY
Has thanked: 4 times
Been thanked: 8 times
Contact:
Very cool. So I assume the 3.4 parts availability was just another broken promise from GM?
91 "SS"
WOT 3400/5spd - EP, FFP, TCE, SPEC, DSS, S&S, OBD1
GEARHEAD dezign
---
Registered User
Posts: 6384
Joined: Thu Jul 26, 2007 11:36 am
Location: Kansas
Has thanked: 2 times
Been thanked: 10 times
Never knew it was a three piece intake manifold.
keep'em flying!
---
Registered User
Posts: 3
Joined: Mon Sep 20, 2004 12:16 pm
Some very cool history for sure. Would be very cool if GM of GM knew where the other one was.
---
Registered User
Posts: 1081
Joined: Fri Oct 14, 2005 5:34 am
Location: Helsinki, Finland.
Has thanked: 1 time
Been thanked: 3 times
Contact:
Too bad no-one have tried to replicate that engine build
Interesting that they used 'Celebrity' rear springs on the suspension, I wonder are they still available. The aftermarket rear springs for L-body are all too weak.
---
Global Moderator
Posts: 1909
Joined: Sun Nov 03, 2002 4:10 pm
Location: Concord, NC
Has thanked: 8 times
Been thanked: 17 times
Contact:
The block alone is $2500, if you can find one. The street reliability of the block isn't where it would need to be, plus it only shaves 47 lbs from the block weight - IMHO, not enough of a difference to justify the cost/reliability drop.
Geoff
95 Z26 3400 5spd
Beretta Preservation Society - Director of Acquisitions
---
Registered User
Posts: 1081
Joined: Fri Oct 14, 2005 5:34 am
Location: Helsinki, Finland.
Has thanked: 1 time
Been thanked: 3 times
Contact:
Enlighten me, it' advertised that the block has improved oiling and also beefier construction to balance the aluminium strength, so what makes it less reliable?
---
Registered User
Posts: 2744
Joined: Sat Mar 23, 2002 1:06 pm
Location: A town up north
Has thanked: 18 times
Been thanked: 11 times
required maintenance drives reliability too. If it goes ignored, it can premature failures.
_________

-------------
---
Registered User
Posts: 1234
Joined: Sun Mar 12, 2006 12:11 am
Location: Rochester New York
Has thanked: 1 time
Been thanked: 3 times
Contact:
Wonder what ever happened to the tall Indy 5 speed if anyone has the vin fit that
93 GT cammed 3500 EP LSD, headers,intake,wilwood,poly/delrin mounts, 2.5 S.S,Exhaust,dickman kits,GTUspoiler,Euro headlights-tails-mirrors-fender flares-spoiler,Intrax/Koni,91+blk interior,rr disk swap,s.s.clutch line
---
---
Return to "General Discussion"
Who is online
Users browsing this forum: No registered users and 7 guests