Connect with your social network account
Registered User
Posts: 2744
Joined: Sat Mar 23, 2002 1:06 pm
Location: A town up north
Has thanked: 18 times
Been thanked: 11 times
_________

-------------
---
Registered User
Posts: 423
Joined: Thu Mar 06, 2014 10:28 am
Location: New West B.C. Canada
Been thanked: 1 time
Don't like the wagon but the drop top Beretta looks sick!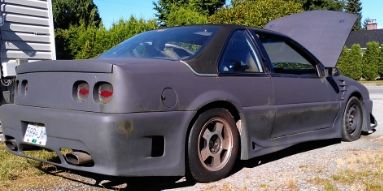 ---
My third car was an Olds Custom Cruiser... With a 455! That was my first and thusfar last station wagon -but I still like the concept of the vehicle. Now they call them "Crossovers"...
A Corsica wagon would have indeed been neat, and I would probably want one of them in my arsenal almost as much as I still want a hatchback Corsica! I am still vaguely considering a hatchback Beretta based on the Corsica, but since I can't even
find
a HB Corsy for sale (near me, and for a price I would actually pay, that isn't a complete pile-o-junk), that point is somewhat moot. I would be better suited spending my time on a Beretta 'vert project, which I just don't want badly enough to make happen, especially with all the other projects I have lined up...
Thanks for sharing that, neat idea...
1989
Super Charged 3800 Series II (First)

Six

-Speed Conversion

GTU
1990
Turbo 3.4 5-Speed

T-Type
1990
4.0L 4-Cam 32-Valve V-8 5-Speed

Indy GTi

(Project)
1990
Stock(!) 3.1 MPFI Auto

Indy
1995
Z-26
1995
3.4 DOHC Turbo 5-Speed

Z-26
---
Registered User
Posts: 4209
Joined: Thu Jul 11, 2002 8:45 pm
Location: Walton, NY
Has thanked: 4 times
Been thanked: 8 times
Contact:
That convertible looks a lot better than the real ones. haha
91 "SS"
WOT 3400/5spd - EP, FFP, TCE, SPEC, DSS, S&S, OBD1
GEARHEAD dezign
---
---
Who is online
Users browsing this forum: No registered users and 3 guests