Connect with your social network account
Registered User
Posts: 973
Joined: Sun Mar 23, 2008 10:58 pm
Location: canananada
Hold out Ron. You'll find someone prepared to pay what's right for this beautiful car. although, i don't know why you don't get rid of your red one instead... you like the red over the white? or think you're not worthy of the perfect whiteness? lol
4th one's a charm, 5th one is, beginnning to sound like this is an addiction...
95 black z26, '96 White z26 awaiting new life, and 2.5 mazda trucks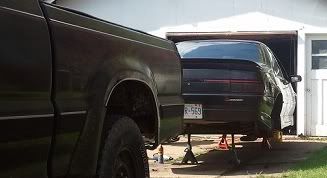 ---
Registered User
Posts: 3029
Joined: Wed Mar 31, 2004 9:36 am
Location: Hamilton, Ontario, Canada
Has thanked: 5 times
Been thanked: 3 times
Contact:
It won't sell at that price!
NOT that it may be full value for the money, but there is no market for these cars.

I HOPE I am wrong!!
Eric
Asylum Motorsports
"Where we're not happy 'til YOU'RE not happy!
'91 California Quad
'92 3500 GT gone and not really missed. It was fun. Documented 13.47 N/A.
---
Registered User
Posts: 42
Joined: Mon Apr 23, 2001 1:18 am
Location: Calgary, Alberta
Contact:
LOL, it takes a facebook post for me to see this car!
Aaron's California score had me poking around for a really nice beretta, but really just browsing. My 96 3400Z was a hoot but pretty much a rust bucket, its now Chris's beater car.

I'd actually buy it if I didn't have my underground parking already taken up, and a 3rd stall would run me $10k. Now.... if there was some sort of cheap storage option to go with the car that might make me rethink (but I see in your ebay pics its already in a paid storage facility)
<sigh>
Thoughts Ron?
06 Trailblazer SS Bored & Stroked 408ci, ZR1 Cam, Trick Flow heads, TVS1900, Built Trans w/stall 600AWHP
09 Solstice GXP Targa Coupe 1 of 1266
93 Med. Garnet Red Q4 GTZ 1 of 621
Bfest '01, '02, '04, '05
---
Bitter sweet, Sold this afternoon for $4400 us. Will be sad to see it go.
1996 White Z-26 - 71,000 miles
1994 RED Z-26 - 100,000 miles
2009 PONTIAC G8 - 40,000 miles
2009 Pontiac Torrent - 30,000 miles
1991 Cadillac Deville - 100,000 miles
1992 Cadillac Deville Spring edition- 40,000 miles
1958 Plymouth Belvedere - 50,000 miles
---
---
Who is online
Users browsing this forum: No registered users and 4 guests