Connect with your social network account
Registered User
Posts: 885
Joined: Sat Jun 18, 2011 9:48 am
---
Now THAT's a beretta! lol
94' Z26 Project - 95' Base Project - Custom LED Light Conversions!
Chosen Proposal Submission & Committee Member for Beretta Fest 2012 in Traverse City Michigan
---
Registered User
Posts: 2464
Joined: Tue Feb 12, 2008 4:07 am
Location: Milan NM
Contact:
Badass!!!! Two BIG thumbs up!

---
Registered User
Posts: 973
Joined: Sun Mar 23, 2008 10:58 pm
Location: canananada
"Jesus Saves"!!! saves what? saves on race gas? saves on tires?
4th one's a charm, 5th one is, beginnning to sound like this is an addiction...
95 black z26, '96 White z26 awaiting new life, and 2.5 mazda trucks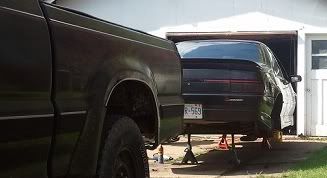 ---
If I do buy another Beretta, it's most likely going to be something like this. The numbers he's giving are 1/8 mile, probably a low 9 second car in the quarter. I see rollers once in a while, but that car is complete. It's actually a great deal too, that thing cost at least the $19K he's asking to build, plus the trailer's worth a good six grand. 2100 pounds with motor, it's either a fiberglass body or a chromoly chassis. Either way, expensive as hell.
---
Administrator
Posts: 10793
Joined: Thu Jul 05, 2007 9:18 am
Location: Brooklyn CT
Has thanked: 12 times
Been thanked: 50 times
Its a full fiberglass body and steel chassis most likely, he's slower than 7.50 in the 1/4 so chromoly is not necessary and too much money... Any car you see setup like this 90% of the time is made from the Beretta drag kits, not one pannel is factory. There are a few out there that start with a factory car but not many since they need to modify it so much to fit that equipment in there, lengthened, widened, and so on... and the weight saving of the fiberglass is a no brainer since its avilable.
I know there is more out there too but here's just some of it
http://www.hairyglass.com/beretta.html
---
Registered User
Posts: 1068
Joined: Sun Nov 02, 2003 11:54 am
Location: Paulden, AZ
Has thanked: 1 time
Contact:
HAHAHA!! Jon did you notice the dash on the site is a molded Corsica dash? And i think it would be cool to get one of those front ends, put it on our cars and make it a flip forward front end like the older vettes

Geoff
95 Base V6: Current Project; Work In Progress
---
Administrator
Posts: 10793
Joined: Thu Jul 05, 2007 9:18 am
Location: Brooklyn CT
Has thanked: 12 times
Been thanked: 50 times
IIRC its extended 6" or so, hence the ext 6 on the parts, so have fun with that... LOL
---
---
---
Who is online
Users browsing this forum: No registered users and 2 guests