Connect with your social network account
Okay, my 17x7.5 OZ rims are a 35mm offset IIRC, what would be the perfect tire size that would not rub or anything like that be? I don't know if it is lowered or not, so we'll assume not.

(PO said it was lowered in the rear, but I'm gonna take what he said with a grain of salt)

Probably will get new summer tires around this spring, so I'd like to know what to look for when I do.
1990 Chevrolet Beretta GTZ - 2.3 Quad 4 HO/5 Speed - 141xxx
2003 Ford Mustang - 3.8 V6/5 Speed - 182xxx
1994 Ford F150 - 4.9 300 I6/Auto - 169xxx
1971 Pontiac Lemans Sport Coupe - 7.5 455 V8/Auto - ~45xxx
---
Global Moderator
Posts: 1869
Joined: Fri Feb 29, 2008 8:11 pm
Location: Hatfield Pa
Been thanked: 1 time
225/45/17 works well minimal rub to none
---
Registered User
Posts: 973
Joined: Sun Mar 23, 2008 10:58 pm
Location: canananada
it's lowered naturally likely... natural sag!
4th one's a charm, 5th one is, beginnning to sound like this is an addiction...
95 black z26, '96 White z26 awaiting new life, and 2.5 mazda trucks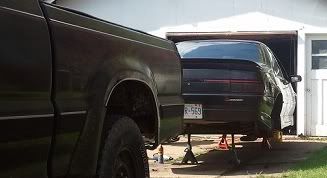 ---
Barry wrote:225/45/17 works well minimal rub to none
X2 same size on my z24 and have tried those wheels on the Z26. Same as oem size just wider.
Sent from my SGH-T679 using Xparent Red Tapatalk 2
95 Beretta Z26, 300,000 mile daily driver
92 Cavalier Z24, Estimated 300K+ miles bad motor. Awaiting 3500 swap.
89 Dode D350 Cummins Turbo Diesel, 370,000 miles.
---
---
Who is online
Users browsing this forum: No registered users and 2 guests