Connect with your social network account
Ok so basically I want to go the low and wide route with my beretta (not cambering because it looks dumb IMO) I was wondering how far I could go up in rim size from stock rims and tires without rubbing ect. I do plan on doing a 1 - 2 inch drop after I get the invader body kit as well.
1995 Beretta 3.1 SFI(Work in Progress)
1990 Nissan 240sx(Soon?...)
Thrush Turbo Muffler
3"Racing tip
Hundai Tiburon Wing
---
Administrator
Posts: 10773
Joined: Thu Jul 05, 2007 9:18 am
Location: Brooklyn CT
Has thanked: 12 times
Been thanked: 50 times
Well it all depends on what width you go with... Increasing the rim diameter if you get the proper tire size (24.9in diameter) along with the right width and rim offset you should not have any rubbing issues. If you are increasing the diameter of the tire then yes you will run into problems, as well as changing to a more positive offset you will rub... My old -35mm offset rims will scuff the rear quarter panel when the rear suspension is a full compression, and they are 7" wide rims. So when going wider you will have more problems in the rear than you will in the front. I now run -40mm offset, stock is -42mm
---
Registered User
Posts: 1565
Joined: Fri Aug 14, 2009 12:13 pm
Location: Truro, Nova Scotia. Canada
Has thanked: 7 times
Been thanked: 21 times
please look into the factory z26/GTZ body kit before installing something aftermarket
---
Registered User
Posts: 4209
Joined: Thu Jul 11, 2002 8:45 pm
Location: Walton, NY
Has thanked: 4 times
Been thanked: 8 times
Contact:
Jon has got it. Keep the tire diameter the same and offset and width close and you'll be ok. 225/45/17 is what I run, but 225/40/18 should be ok.
91 "SS"
WOT 3400/5spd - EP, FFP, TCE, SPEC, DSS, S&S, OBD1
GEARHEAD dezign
---
Global Moderator
Posts: 1869
Joined: Fri Feb 29, 2008 8:11 pm
Location: Hatfield Pa
Been thanked: 1 time
Oh man here we go.

If you want big rims like 19's and up get a monte carlo or grand prix. They fit the wheels a lot better.

If you want to go with a performance setup then your going to want something along the lines of 17x8 40-45 offset. You can run a 235/40 or a 245/40 with some work. Get rid of the fender liners and roll the fenders some. I had 235/45 fitting fine at one point.

The fronts will fit more meat than the rear generally unless you use a backwards stagger.
---
Registered User
Posts: 973
Joined: Sun Mar 23, 2008 10:58 pm
Location: canananada
18"s fit pretty well. 225/40r18
4th one's a charm, 5th one is, beginnning to sound like this is an addiction...
95 black z26, '96 White z26 awaiting new life, and 2.5 mazda trucks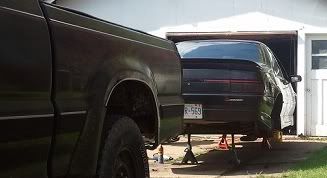 ---
---
Who is online
Users browsing this forum: No registered users and 3 guests