Connect with your social network account
I own a 1993 beretta. I bought it from a friend, I want to learn DIYs for repair and maintaining my car.
_______________________
here are some problems that
need to fix with my beretta


wheel bearing| window switch




AC problem

|

radiator



Last edited by
mik002
on Tue Aug 09, 2011 10:03 pm, edited 2 times in total.
---

Hi Im also new here.well welcome to the site.. anyway can you specifically explained those problems with your car parts? people here can help you more if you do that..

---
Registered User
Posts: 973
Joined: Sun Mar 23, 2008 10:58 pm
Location: canananada
nice car and cool garage you have there! where are you located?
4th one's a charm, 5th one is, beginnning to sound like this is an addiction...
95 black z26, '96 White z26 awaiting new life, and 2.5 mazda trucks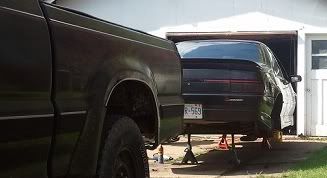 ---
Registered User
Posts: 266
Joined: Thu Oct 28, 2010 8:08 pm
Location: Fresno, California
Contact:
Car looks great.
More pictures is a must.


Chevrolet Beretta GTU/GT
---
Registered User
Posts: 6386
Joined: Thu Jul 26, 2007 11:36 am
Location: Kansas
Has thanked: 2 times
Been thanked: 11 times
My car dreams of a home like that. Please go into detail on the problems. They look like links, but I can't get them to work.
keep'em flying!
---
i wonder how he loves his car...nice
---
---
Who is online
Users browsing this forum: No registered users and 2 guests