Connect with your social network account
Hello my Beretta friends!! I have a problem which just started happening out of nowhere. It's a 95 V6 3.1 with 44,000 miles. Earlier in the week it was running just fine but now all of the sudden, it has developed a rough idle condition accompanied by a chimney-like, sooty smell from the exhaust but there is no smoke. It runs pretty smoothly on the highway with a slight power loss maybe, but once you get into stop and go traffic, it gets very hesitant and skippy- almost stalling. I only use the same two gas stations for all my vehicles- I have no fuel quality related issues with the other cars.. Looking for some ideas on what to check first before I go to the shop. I have not done anything tune-up related since owning it for the past year
---
Registered User
Posts: 595
Joined: Tue Dec 26, 2006 10:56 am
Location: Deerfield Illinois
Been thanked: 14 times
Any service engine soon lights?
Does it run better cold or warm?
My guess is an injector went bad.
---
There is no check engine light illuminated (the light itself does work though). Car ran fine all through the extreme cold of the NY winter, but the past few days have been warmer and the car kind of changed with the weather. Overall though I,d say car runs better in the cold. It stalled out once on a hot day last summer, but restarted no problem. How do you OHM test the injectors? How do you get to them? Thanks.
---
Administrator
Posts: 10793
Joined: Thu Jul 05, 2007 9:18 am
Location: Brooklyn CT
Has thanked: 12 times
Been thanked: 50 times
A few other items to check would be the coolant temp sensor, O2 sensor, and possibly the fuel pressure regulator. This is a sign of a rich condition and rich cars will run better in cold weather. Warmer weather they will have a tendency to stall. The fuel pressure regulator has a vacuum line on the top of it and if the diaphragm is ripped it will suck raw fuel into the intake through that line causing a rich condition. Second to that could be the O2 sensor starting to fail. That will SOMETIMES report a code, but not always. It typically waits till it's to the udder extreme before throwing the code though. And then third is the coolant temp sensor. It's in the intake neck next to the thermostat and if that is sending an improper signal to the ECU for extremely cold coolant, the ECU will adjust the mixture to really rich conditions. This will not change the gauge reading on the dash since that is received from the sensor that is in the back head corner under the alternator. 3100 injectors are less likely to fail in relation to the 3.1MPFI variant so I wouldn't dive in that deep yet. Start with checking the three above items and you may find something there.
Regulator isn't cheap, but you can eliminate that from just checking for fuel at that vacuum line, you don't have to replace it straight up to test that theory.
http://www.rockauto.com/en/catalog/chevrolet,1995,beretta,3.1l+v6,1028854,fuel+&+air,fuel+injection+pressure+regulator,6124
Temp sensor is dirt cheap so it's a quick easy test if the regulator has no issues. You want the two pin sensor, not the one with the one wire tail, thats for the gauge
http://www.rockauto.com/en/catalog/chevrolet,1995,beretta,3.1l+v6,1028854,cooling+system,temperature+sender+/+sensor,4748
And lastly the Upstream O2 sensor is't that expensive either.
http://www.rockauto.com/en/catalog/chevrolet,1995,beretta,3.1l+v6,1028854,exhaust+&+emission,oxygen+(o2)+sensor,5132
The injectors you can Ohm test from this main bulkhead connector...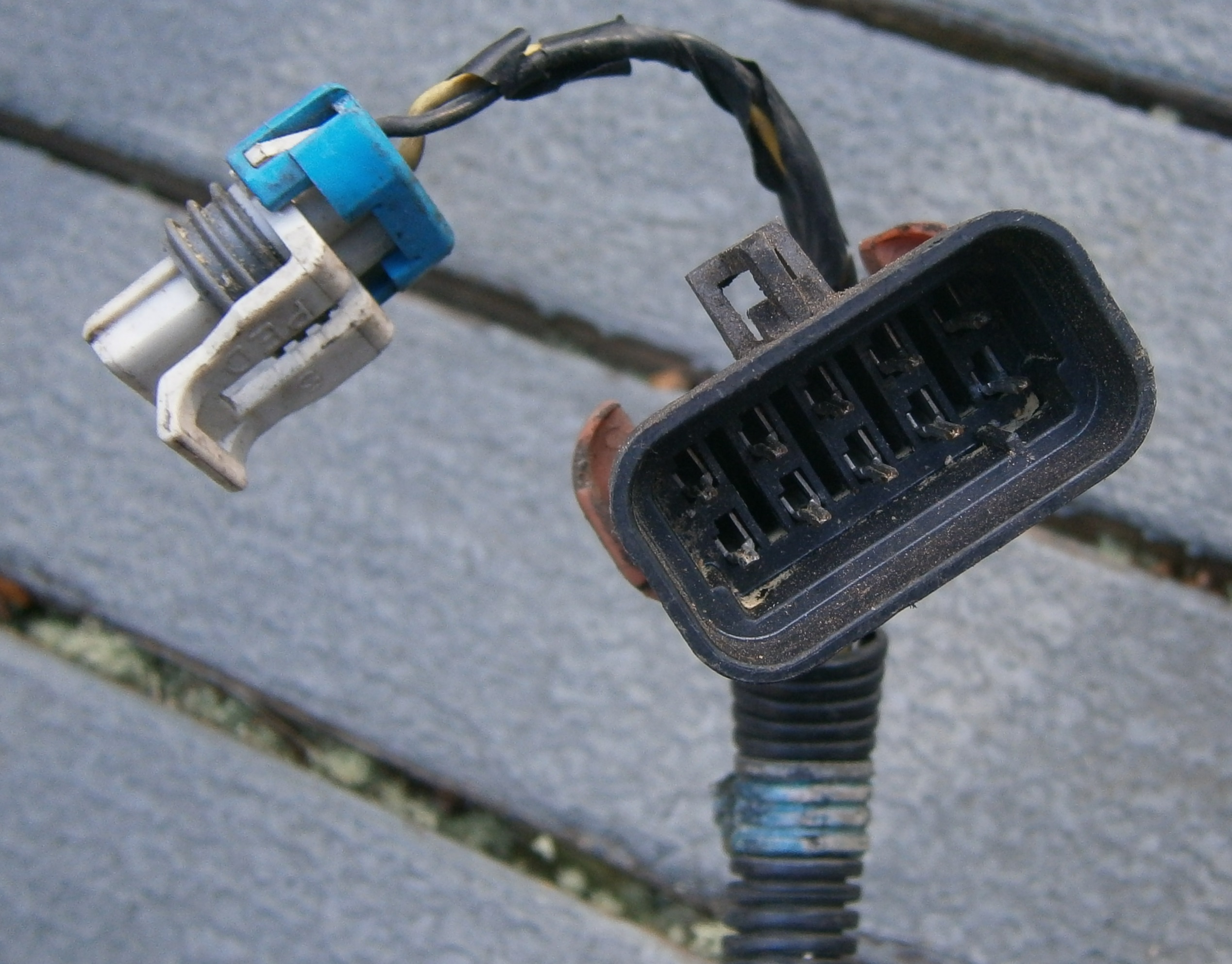 Here is a picture of the wire colors that go to the injectors... Pink is the common hot, or 12v lead, and the grounds are what goes to the ECU to be triggered, the six colors are listed on here.
---
Ok thanks 3X00 for the great info. I will check the things you mentioned first and will report back.
---
Registered User
Posts: 4269
Joined: Thu Jul 11, 2002 8:45 pm
Location: Walton, NY
Has thanked: 5 times
Been thanked: 10 times
Contact:
Jon is right on, good suggestions there.
91 "SS"
WOT 3400/5spd - EP, FFP, TCE, SPEC, DSS, S&S, OBD1
GEARHEAD dezign
---
Ok, so a few weeks ago I changed the coolant temp sensor and checked the fuel pressure regulator. The regulator was bone dry and had no strong gas odor. The vacuum line to it is also good. Today, the temp outside reached 80° and the car stalled out twice- once at a stop light and the other on a slow turn. The car always starts right back up and will drive fine until it wants to hiccup or stall again. So there is some part which is being directly affected by hotter ambient temps. Is there any way this could be the TPS ? I only ask because when car is restarted after a stall, the engine revs very high for 5 seconds without touching gas pedal. It doesn't seem like this is related to a part being dirty or gunked up because when this intermittent problem isn't present, the car runs perfectly most of the time. I know I still need to consider the o2 sensor..can I test it on the car? All the while, I have never gotten any cel..should I check for stored codes anyway? Thanks.
---
Registered User
Posts: 595
Joined: Tue Dec 26, 2006 10:56 am
Location: Deerfield Illinois
Been thanked: 14 times
Wiggle the connector to the MAF sensor. Mine wasn't seated right and caused a stalling condition.
I remember it died on a turn and I had to shift to neutral and restart and then it was fine.
I worked in the area of the intake and so I checked my connections there. Just unplugged and re-plugged
and that problem has not been back since.
Just a thought.
---
Ok, I'll try that.. thanks. If that doesn't work, should I consider the ignition coils? I've heard that the coils in these cars are subject to more heat stress due to where they are positioned under the hood causing them to fail. Today it reached 92° outside and the hotter it gets, the more this car is afflicted with poor performance and stalling.
---
Administrator
Posts: 10793
Joined: Thu Jul 05, 2007 9:18 am
Location: Brooklyn CT
Has thanked: 12 times
Been thanked: 50 times
95 will not have a MAF to check... its a speed density ECU meaning it fuels based upon MAP sensor data and intake air temp data. Unfortunately without any data from the ECU such as logging, not codes, you're just taking a shot in the dark as to what could be going on. If it seems to be just a stalling problem then I would go after the IAC valve if you have not replaced that yet. It could be closing too far and causing it to stall and then when you restart it's snapping open and causing the high idle.

Only way to "test" your O2 sensor is to monitor the data stream from the ECU And see if it's oscillating like it should be during normal driving and not hanging in the rich area or lean area. Hanging in the rich area while the car is running rich would point to a uncontrolled fuel problem making the car run rich all the time.. If it's reading dead lean and the car is running rich then that would point to the sensor being bad and the ECU is trying to correct for a lean condition but it can't see it's results.
---
Thanks for the IAC and o2 sensor info. I have a new IAC waiting to go in, but you're right, anything I attempt as a repair is just a shot in the dark. But eventually, one will hit and I will take note and learn for next time. Anyway, In my ongoing quest to resolve this problem, I'm also going to check the egr and ignition coils- I keep hearing that the coils are prone to failure due to heat...If I do OHM test the coils, will they ever test bad during a period in which the car is running normal and not acting up? Or will they only potentially test bad when the car is running bad? BTW, I tried to jump wire the diagnostic port to check for stored codes and when I turned car to the"on" position , nothing happened..no blinking cel or fan activation. I jumped the only 2 pins that were there. Thanks for all your help.
---
Administrator
Posts: 10793
Joined: Thu Jul 05, 2007 9:18 am
Location: Brooklyn CT
Has thanked: 12 times
Been thanked: 50 times
94-95 will not jump like a 93 and older car. You need an OBDI diagnostic tool to retrieve codes or read serial stream data. Ebay has a cable and software for around $50 for a laptop that would allow you to data-log and see what's going on. Not a bad investment if you have a laptop available to do that. Coils would probably not cause this situation, when they go bad you will hear and feel a skip, the stalling and high reving after restart don't usually point to the coils as being the culprit. And unfortunately if there is a failure related to heat if you were to test them they will probably test find when cold and may not show any issue if there is one until they get hot.
---
Ok, thanks. Today here in NY it was a much cooler 65-70° and car ran absolutely perfect at idle and while driving even with a/c on. It ran so smooth and quiet just as it would after a tuneup. But man, add on another 10° of outside temp and it gets real cranky. There is just that one mystery component which can't tolerate the extra heat. I'll put the coils at the bottom of the list of things to check and this weekend I will change IAC and maybe clean egr and report back. Would the cable and software allow me to see real-time data on my laptop? Would you happen to have a link? Thanks again.
---
Administrator
Posts: 10793
Joined: Thu Jul 05, 2007 9:18 am
Location: Brooklyn CT
Has thanked: 12 times
Been thanked: 50 times
---
---
Who is online
Users browsing this forum: No registered users and 4 guests