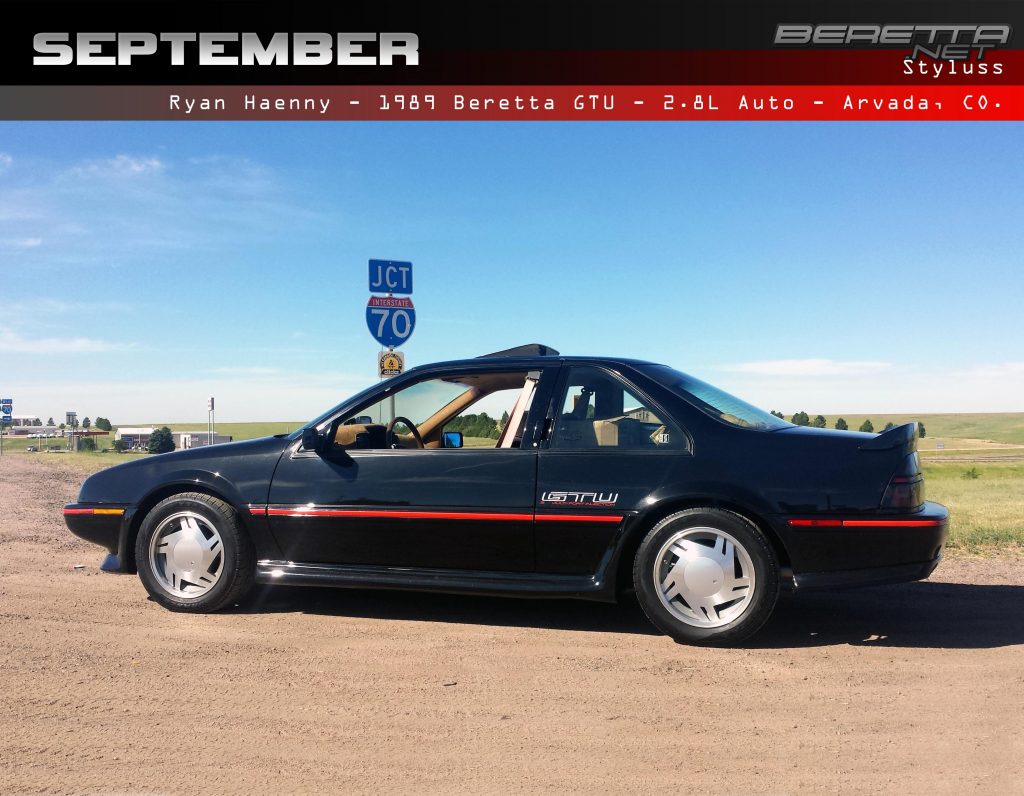 Styluss – Ryan Haenny's 1989 GTU

This is my 1989 Chevrolet Beretta GTU. This car was a dream of mine six or seven years in the making. I decided back then that I wanted a factory black GTU with tan interior, an option from the dealer but to the best of my knowledge never actually seen by any of the group members. I bought a car to be used as my rally car many years ago and it just so happened to have tan interior! Most of it was very usable and in great condition so it all got pulled and tucked away waiting for the day I found my black GTU. Well two years ago now this one popped up in the community and thankfully I had the money to go and get it. I flew into Ohio and the prior owner came to get me in the car from my hotel the next day. He took me to the BMV to handle the paperwork and while we were inside his wife came to pick him up. BOOM! I was the proud owner of this beauty and started my drive back to Colorado.
When I acquired her she only had a mere 69,000 miles under her belt. After almost three years of ownership, driving her home from Ohip and back and forth to two BerettaFests she has about 88,000 now. She sits in the garage and is definitely just the Sunday driver. In her time with me I have had some paint correction work done and have swapped in a nearly complete tan interior to replace the gray that was in it from the factory. I have a tan dash that is the final piece to go in the car and the interior will be 100% complete! She has come to be known as having a "peanut butter" interior and I'm running with it. I might even get new custom plates that say "PB&J". Shh… no one knows but those of you that read this but she's in the shop right now getting a very nice paint job, factory color of course as well as clear bra work and a ceramic coating! She's going to be better than ever!
Ryan Haenny – Styluss – Denver, Colorado