Connect with your social network account
Hey everyone, I'm looking for the center of gravity of our vehicles in the effort to improve vehicle dynamics.

I know most people just lower their cars an inch or two to lower the center of gravity (I've already done that but found that the car seems to squat on acceleration more than I'd like.) and that's fine for aesthetics but it causes lots of other issues in the suspension geometry department (hense my car squatting with new shocks and stiff springs).

I'm looking into vehicle dynamics like Roll center (front and rear) as well as counter measures like anti-dive and anti-squat that are built into the suspension designs; There's a lot of untapped potential from our grocery-getter suspensions that I'd at least like to explore.

The Fiero guys claim to know what their CoG is based on an old publication (Motor trend or car and driver... I can't remember). This made me curious about ours and if it was published at any time. I spent some time searching the interwebz and came up with nothing for the L cars.

Can anyone help me out?
---
Here's an interesting tid bit from the engineers at Whiteline, arguing that 0% anti-lift is a positive thing for the front end of a WRX as it will understeer less while accelerating or braking during a corner. Before assuming that this would be great applied to a Beretta I'd like to take readings on all the angles to see what our measurements actually are for the control arms and semi independent axle. Once that's determined theoretical percentages of anti-dive anti lift and anti-squat could be determined.
Thoughts?
http://www.whiteline.com.au/articles...WL%20ALK_b.pdf
Last edited by
JeffD
on Mon Nov 21, 2016 9:53 pm, edited 2 times in total.
---
Administrator
Posts: 10823
Joined: Thu Jul 05, 2007 9:18 am
Location: Brooklyn CT
Has thanked: 12 times
Been thanked: 50 times
I haven't read this yet myself but it may be able to help you figure out what you're looking for.
http://www.how-to-build-hotrods.com/cen ... avity.html
Regarding squat issues, I've helped mine by installing stiffer rebound front suspension to prevent the weight transfer to the rear.
Sent from my Nexus 5X using Tapatalk
---
Thanks! I just read it and it's very helpful for finding the center of gravity within the wheelbase, but as far as the height of the CoG, they make a blanket statement about using the center line of the camshaft as the approximate height of CoG (they're talking about muscle cars and hotrods that don't use transaxles)... as it turns out, the height of CoG is very crucial for determining Roll center and the other elements being discussed. I'll look into it more.
---
http://www.thecartech.com/subjects/auto_eng/Center_of_Gravity.htm
This page has some good info for finding the exact location of the CoG... I'd like to perform these measurements, I really would, but my car is almost an empty shell right now. I'm doing some rust repair and a re-paint and getting some other odds and ends done during the winter.
This is why I was hoping to get some sort of published value.
3x00, what strut did you use to control the rebound?
---
Administrator
Posts: 10823
Joined: Thu Jul 05, 2007 9:18 am
Location: Brooklyn CT
Has thanked: 12 times
Been thanked: 50 times
I'm using Koni inserts that were sold for the Cavaliers. They are discontinued and the other option is a set meant for a Mitsubishi.

I have some 4 corner weights of mine that I could perhaps use to figure this out.

Finding published info like that for a Beretta is honestly a dream. I'm sure GM never published that and no one has ever needed to calculate that since people racing these cars with their stock drive line is far and few in between. Anyone who drags these body styles are totally hacked up in comparison to a stock layout.

Sent from my Nexus 5X using Tapatalk
---
Yeah, I understand that.

Well, I'm interested in optimizing the stock suspension since our layout ( MacPherson front, semi-independent rear) is very widely used and can be highly competitive when properly set-up.
If we can determine CoG it'll be a benefit for all in our community interested in all forms of competitive driving.

Sent from my MotoG3 using Tapatalk
1988
Beretta GT 5 speed
- 1st car... Gone to the crusher.
1989 Beretta GT Z-51
1994 Beretta Z26 getting FE7+Z51 goodies
1987
Pontiac Bonneville
LG3+4T65-E
1987
Chevrolet Celebrity Wagon
L36+4T65-E
1998 Chevrolet C1500 5.7L L31+ built 4L60-E
---
If your lowered, your roll center is probably under ground. Mine was. I would start on solving that issue and bump steer first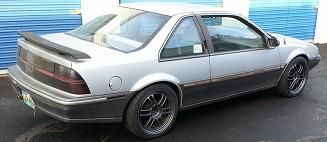 88 Beretta CL
- your average grandma car.. Ls1 swap in progress
77 Celica
- needs an engine swap
96 Geo
- 1.0L, Cam, 3 angle, cam gear, magnaflow, Koni, H&R
86 Subi
- rally car
---
---
Return to "Suspension and Brakes"
Who is online
Users browsing this forum: No registered users and 2 guests