Connect with your social network account
Hello,
Here are some pics of my 90 quad GTZ that I recently got on the road after being in my garage for 10 years. I bought it from a neighbor with a broken motor but I could not let it go to scrap. I ran across a new long block for it so I went through all the mechanical and updated it a bit. I put a 91 up dash and door panels in and re worked the coolant/washer fluid and a/c to the newer style and I put in a new MG2 with the internal slave cylinder. I also have a white quad 90 GTZ that is in well preserved condition. The red garnet car is mostly done except it could use paint although it is pretty good for original paint.
---
Registered User
Posts: 1566
Joined: Fri Aug 14, 2009 12:13 pm
Location: Truro, Nova Scotia. Canada
Has thanked: 7 times
Been thanked: 21 times
---
Registered User
Posts: 158
Joined: Tue May 31, 2016 3:54 pm
Has thanked: 12 times
Been thanked: 5 times
That's a beauty! My garnet gt is originally from Troutdale OR, at some point it made its way to Ohio.
---
It looks good, rust free I hope, my car was bought new in Florida and came to Oregon via California in 1996. It does not have a rear window defogger, the only one I have seen that does have it. Good for window tinting.
---
Registered User
Posts: 334
Joined: Thu Jan 20, 2011 8:39 pm
That looks really clean and well taken care of great job!
---
Im a bit late.. Im not on here much anymore. Glad to see somebody else in oregon! Clean car!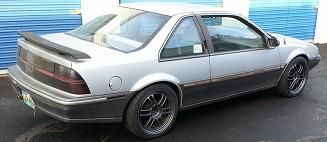 88 Beretta CL
- your average grandma car.. Ls1 swap in progress
77 Celica
- needs an engine swap
96 Geo
- 1.0L, Cam, 3 angle, cam gear, magnaflow, Koni, H&R
86 Subi
- rally car
---
---
Who is online
Users browsing this forum: No registered users and 4 guests