Connect with your social network account
here she is, dont mind the motor, she's a little dirty and i recently burned up the ps pump and in the process of installing the new one stripped the threads on the ps line, so thats why the ps pump isnt in...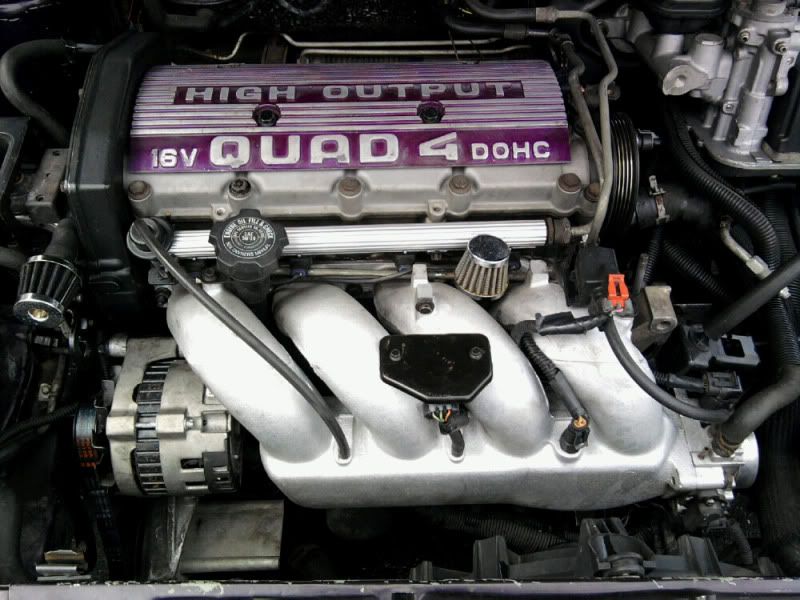 Last edited by
speedy
on Sat May 29, 2010 1:11 am, edited 1 time in total.
1991 beretta GTZ- 2.3l w41 cams, ported 086 head with a 3 angle valve job, fidanza flywheel with exedy racing clutch, 3.94fdr from and scx, so much more..
---
Registered User
Posts: 4451
Joined: Thu Jul 11, 2002 8:45 pm
Location: Walton, NY
Contact:
Do you mean MAP cover?
91 "SS"
WOT 3400/5spd - 13.57@100.7
GEARHEAD dezign
---
Registered User
Posts: 3045
Joined: Wed Mar 31, 2004 9:36 am
Location: Hamilton, Ontario, Canada
Contact:
Rusty cam cover and IDI bolts suck!
Eric
Asylum Motorsports
"Where we're not happy 'til YOU'RE not happy!
'91 California Quad (Gone with just a bit of "Seller's Remorse".)
'92 3500 GT gone and not really missed. It was fun. Documented 13.47 N/A.
---
you guys are brutal lol.
Nice job Speedy.
---
Registered User
Posts: 6411
Joined: Thu Jul 26, 2007 11:36 am
Location: Kansas
What did you make that out of? I do think it looks good, I'm not big on dress ups myself.
keep'em flying!
---
---
Who is online
Users browsing this forum: No registered users and 4 guests