Connect with your social network account
Okay enough with math.

He said he will take 500 for it. Title in hand.

Do you want it speedincorsica?
---
Administrator
Posts: 10892
Joined: Thu Jul 05, 2007 9:18 am
Location: Brooklyn CT
SuzukiGhostRider wrote:I was just pointing out scrap values. And here a "few" means two. Add two and two and you get four. Four is almost HALF 7.
You guys are weird out there...
http://en.wiktionary.org/wiki/a_few
Usage notes

"A few" and "few" without "a" differ in emphasis. "Few" emphasizes that the number is not as large as expected, while "a few" emphasizes the fact that the number, while small, is not zero but more than two.

LMAO sorry Barry I had to, it's fun.

---
Registered User
Posts: 302
Joined: Mon Jan 24, 2011 11:06 pm
Location: Central PA
Contact:
Sorry Barry, I had something pretty serious come up today and i can't afford to buy it now. i wish i could, but can't.
-Alan
SP33D1N
CORSITECH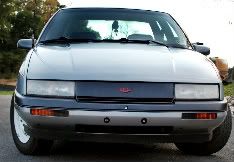 ---
---
Registered User
Posts: 186
Joined: Fri Feb 18, 2011 11:16 pm
Location: St. Paul Mn
Contact:
Whats gonna happen to thios ride if ti does not sell?
---
It will be scrapped soon. Its at my old garage and is sitting with a few other cars that customers didnt want to have repaired
---
Registered User
Posts: 1
Joined: Mon Apr 18, 2022 5:52 pm
Apologies for resurrecting such an old thread. I'm the guy who bought this car. This link showed up in my facebook memories today. Sadly, the car has been retired, but I would like to tell the story of this gray 1989 Corsica hatchback.

I found it funny when I read some of the comments. "Too bad it's 5 hours away." That's almost how far away it was from me. I had owned another Corsica hatchback (1990), and the body was not doing too well. I thought, "what the heck, I'll just do a google search". This forum post came up, having been posted only a week before. I called and arranged to get the car. I rented a car to drive one way, then bought this Corsica. The catalytic converter was removed for some reason. Still present though, so I just got some exhaust band clamps and put it back on. The woman at the garage was a notary, so we were able to get a temporary plate for it.

The first thing I noticed, and found absolutely hilarious, was the fact that the electrical side of the ignition switch had been removed from the steering column and mounted under the dash. Actuated by a bent rod which was clamped to the actual ignition key. It was funny to me because I had the same switch failure in my other Corsica, and did the same thing as a fix. I ended up driving it home. 4.5 hours and 250 miles later, I made it. The engine ran well and the transmission had no issues. My other Corsica had the 2.2 in it, so the 2.8 was a new thing to learn. As it turned out, not a difficult engine to work on. Well, except for replacing the rear spark plugs. Some of which were so old that the electrodes had worn almost completely away. I didn't own the car for very long before I started doing the same old crazy stuff, like taking it off road. One good dip in a trail and a punctured oil pan later, I high-tailed it back to my work (mechanic shop). The oil pan had clearly been through more stuff than just this one bump. I tried to weld the hole closed while it was on the car. This was a mistake, and a valuable lesson learned. The welding wire went into the hole and sparked inside the pan. There was a loud bang, and the pan was no longer concave. I decided it was better to just remove the pan to repair it.

I drove the car a few years before I had the next major issue. Driving along one day, I suddenly heard a high-frequency rattle. I took my foot off the gas and pressed it again. The frequency changed with engine speed. I put it in neutral to turn it off, and it seized instantly. After pulling over, I tried to engage the starter, but was met with the resounding thud of trying to start a seized engine. Fortunately, I had some tools in the car, so I started investigating on the side of the road. I pulled a valve cover. Everything looked normal. I decided to remove the oil pan. I checked the rods, nothing wrong. Strange. Oh! I see the problem. The crankshaft is broken in half! I learned later on that this was common with the 2.8. The crank was not balanced internally, but was balanced by the harmonic balancer pulley. When the rubber on the pulley started to wear, the crank would vibrate until failure.

That began a weeks-long journey of trying to find an engine. I also decided it was time to modify the transmission by putting in a 4 speed auto. I found a 3.1 liter engine and a 4 speed transmission out of an 87 Cutlass Sierra (I think). The engine was a drop-in replacement. No ECU mods or any other major changes. The transmission bolted right up to the engine, but required either fabricating or modifying all of the mounts. I also didn't have the correct length CV axle shaft, so I cut the axle and welded it back together. Two days later, I was on the road to Virginia (a 600 mile trip). It was an excellent time to see how the 4 speed performed. It was great except that the TCC lockup wasn't working. Even with that, I still noticed improvements in economy.

I spent three weeks in VA, mostly sleeping in the back of the car since it was spacious with the seat folded down. The next trip was up to northern Vermont. Both of these were work trips. While in VT, I fixed the TCC issue. The trip back home saw the highest fuel mileage ever in that car or the other Corsica. 29mpg! Not bad for a 24 year old car.

Eventually, I lost 4th gear in that transmission. The 4th gear clutch ate through the sprocket (not sure if that's what it's called). I decided to try to rebuild the transmission. It did not go well. I ended up putting the 3 speed back in.

Eventually, I noticed the steering start to get loose. As it turned out, the steering rack mounts had rusted out, and the entire rack was moving back and forth. I could turn the steering wheel about 20 degrees from center before the wheels would start to turn. I was faced with a difficult decision. Remove the engine and repair the firewall, just to limp the car along a little more? Or buy another car? Well, I had sold a house and had some money, so I chose the latter. It was a difficult decision, because I really enjoyed driving old pieces of junk. But it was time to move on.

I drove the car to the junkyard. Made it just to the gate, before the engine stopped running, presumably out of gas. The large forklift came and took the car inside. I believe it had around 280k miles on it.

Epilogue:
Remember that CV axle shaft I welded together? It never failed. I ended up rebuilding it by buying a replacement shaft and swapping out the ends. The other Corsica I had, which has its own ridiculous story, was also retired at the same time. It had been in storage for years. A potential parts car. It got a ride on a wrecker. The fuel pump was in bad shape, so the car barely ran. It had 340k miles on it. I hope this abridged version of the story has been enjoyable to read through. At least as enjoyable as owning this car was.
---
Sword_guy that's a great story! 11 years later!

Glad you got to show that car more of the world. She was destined for the scrap yard before you saved it.

Cheers
---
---
Who is online
Users browsing this forum: No registered users and 6 guests