Connect with your social network account
Hello Mods,

Not sure if this is where I should post this, but here goes.

I have been trying to post a picture of a part I am in need of. Being new, every time I have tried to post a link, or even an img tag to post the photo, I get a message that says my post is too spammy for a new user. I understand what you guys are doing, as I am a 9 year member over at fiero.nl, however what do I need to do to be able to get the privilege of posting photos? At some point I want to post photos of my car, but as it is right now, I can not even put a photo on photobucket and have it show up on the forum.

Thanks for reading this and for having this great resource!

Mark
---
Registered User
Posts: 973
Joined: Sun Mar 23, 2008 10:58 pm
Location: canananada
probably just a few more post in general on the board before you become 'trusted' as not-spam...

just describe the part as best you can, some members are really good and may post a pic of what you are describing to double check.
4th one's a charm, 5th one is, beginnning to sound like this is an addiction...
95 black z26, '96 White z26 awaiting new life, and 2.5 mazda trucks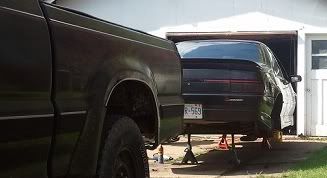 ---
Global Moderator
Posts: 1991
Joined: Sun Nov 03, 2002 4:10 pm
Location: Concord, NC
Contact:
I believe you need to have 5 posts before you can put up pictures. I'm not 100% sure though.
Geoff
95 Z26 Turbo 3400 5spd - R&D Project
Beretta Preservation Society - Director of Acquisitions
---
Registered User
Posts: 1828
Joined: Mon Jun 28, 2010 9:02 pm
Location: Wisconsin Rapids, Wisconsin
Contact:
---
OK, that explains it. I have more than 5 posts, but have only been a member for 4 days. So tomorrow I should be good to go.
---
Administrator
Posts: 10847
Joined: Thu Jul 05, 2007 9:18 am
Location: Brooklyn CT
---
I'm new to the board. It seems when I try to post, I am getting kicked out and sent back to the login page. I realize I need 5 posts, but is it normal to be re-directed to the login page?
---
Administrator
Posts: 10847
Joined: Thu Jul 05, 2007 9:18 am
Location: Brooklyn CT
This sounds like security issues on your local PC... Your browser is not saving your cookies properly or for long enough and it's logging you out. I check off the login automatically so I don't get logged out, and I also don't sit idle in a reply box or on a new topic box for too long since they do time out. If you're typing a really long message my suggestion is to copy the whole txt box and refresh the screen and re-paste it before clicking submit to ensure you don't lose what you wrote.

I just did a lengthy post without having "automatically log me in" checked off and I did not get booted when I clicked submit so this is why I always say it's the end users PC timing out or dropping the credentials somewhere.
---
---
Who is online
Users browsing this forum: No registered users and 1 guest