Connect with your social network account
Awesome!!! I love that track. Definitely be back there next year but with a different car. The beretta wint come back out until its "finished"
---
EPfiffner wrote:That is damn impressive!! I've been following the whole thread.
I agree 100%. This is honestly one of my favorite extreme Beretta mod projects I've ever seen for two reasons:
1. When this guy started so long ago, he literally had a dream, made a plan, and started making it happen. It takes vision, dedication, and talent to do this, and you know most projects like this never come close to finishing, even making progress as dramatic as this is incredibly uncommon, and to keep going after this time is awesome.
2. The level of professionalism in not just making the body parts (equals talent AND skill, plus time, effort, etc), but in making actual MOLDS for the custom parts (equals everything needed just to make the parts x2, PLUS a mature long-term view in understanding that parts may need to be re-created. Who does that??).
I truly wouldn't have done everything the same here, or gone in exactly the same direction, but that is the beauty of diversity, personal taste, and individuality. What I can't believe is how closely the reality of the car is to the original dream of it -simply amazing. Kudos man, kudos!

1989
SuperCharged 3800 Srs-II (First)

Six

-Speed

GTU
1990
Turbo 3.4 5-Speed

T-Type
1990
4.0L 4-Cam 32-Valve V-8 5-Speed

Indy GTi

(Project)
1990
Stock(!) 3.1 MPFI Auto

Indy
1995
LA1/L82 4T60E

Z-26
1995
3.4 DOHC Turbo 5-Speed

Z-26
---
Thanks guys. Definitely appreciate the kind words and encouragement along the way. I never would have thought it to take this long....buy I do admit ......built 2 other track/drift cars while building this car and definitely have a problem dividing my time. This car is exactly what I always hoped it would be. Now just gotta make it look the part. !!!!!!!
---
That s2k widebody would be a cool way to do it on a beretta! Definitely Looking forward to see more progress!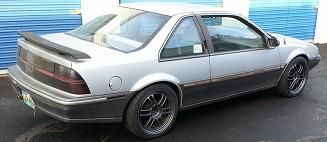 88 Beretta CL
- your average grandma car.. Ls1 swap in progress
77 Celica
- needs an engine swap
96 Geo
- 1.0L, Cam, 3 angle, magnaflow, Koni, coilovers.
86 Subi
- Supercharged @7psi
---
Too excited not to post some more Beretta widebody progress. I was really struggling working/sculpting the plaster at first. But I really feel like im getting the work flow down and getting much more efficient.
Really starting to dial in the sections and details on the front and got the big slabs on the rear starting to take shape.
---
---

i made it about this far with the box style flares. i took a break from this project for a long while. i could just tell i wasn't happy with how the body was shaping up. I wont bore y'all with all the iterations but knowing the cost of making the prototype parts and then casting and making the fiberglass parts i just couldn't continue to stay motivated.
---
now........i know this update is long overdue. anyone who knows me or follows this thread knows this has been a long term project for me and something I always put on the back burner and come back to. I believe this is the most logical execution that will allow this car to be finished and back on track asap. It isn't what I originally envisioned. But it is what makes sense. And....I think it looks good. the box style flares looked so heavy to me anc i just was not motivated to spend the time or money to properly finish them.
---
this is the new plan. 6 inch muscle flares from clinched. really hoping to jam on this car all winter and make as much progress and updates to this thread as possible.
---
Awesome! Still watching...

I liked how it was going, especially for the uniqueness factor and that it really did resemble what you sketched-up at the beginning, I don't think anyone would take away your credit on that, especially following how you did it. But I do like the simplicity of the new direction too. A different approach cosmetically, but still keeping the performance ideals. Looking forward to more updates, thank you.
1989
SuperCharged 3800 Srs-II (First)

Six

-Speed

GTU
1990
Turbo 3.4 5-Speed

T-Type
1990
4.0L 4-Cam 32-Valve V-8 5-Speed

Indy GTi

(Project)
1990
Stock(!) 3.1 MPFI Auto

Indy
1995
LA1/L82 4T60E

Z-26
1995
3.4 DOHC Turbo 5-Speed

Z-26
---
Registered User
Posts: 4512
Joined: Thu Jul 11, 2002 8:45 pm
Location: Walton, NY
Contact:
I'm actually liking the new aesthetics better. It still looks modified, but it looks more "Beretta" to me. The widebody sorta had that 80s Nascar prototype vibe.

I feel you on the motivation part. My Camaro always ends up on the back burner because the body work aspect is just not very enjoyable to me. Part of the reason I sold my last Beretta was to put my attention on the Camaro...and I'm more excited to build the next Beretta already. Haven't touched the Camaro since the other Beretta came home! haha
91 "SS"
- WOT 3400/5spd - 13.29@101.6 - World's fastest N/A FWD Beretta
GEARHEAD youtube channel
---
---
Who is online
Users browsing this forum: No registered users and 6 guests