Connect with your social network account
Registered User
Posts: 4512
Joined: Thu Jul 11, 2002 8:45 pm
Location: Walton, NY
Contact:
Ohhhhhhh sweet tools. Nice rear arms too...I'm going DIY with "jeep" stuff for mine. What's with the weird shape on the one pair of links?

Is that one of those China routers? We have an awesome Swiss one at work but it won't do metal. What kind of tolerance will it hold?

And where will you have room for all that equipment? haha
91 "SS"
- WOT 3400/5spd - 13.29@101.6 - World's fastest N/A FWD Beretta
GEARHEAD youtube channel
---
Thanks! Nothing wrong with "jeep" parts considering your doing a straight axle, probably the best way to do it for that application.

They have that shape to go around the coilover. I think the s13 and 350z have a round hole in the center and goes around on both sides if that makes sense. S14 had it a little different. Going for the ultimate lightweight setup to makeup for all the heavy stuff im adding..

The router is a diy kit type deal made by cnc4newbie in Canada. I'm going a bit off the deep end with it.. I have a chineese spindle sadly but its massive... and 240v.. upgraded the controller to more of a commercial grade setup that will allow another axis if I choose to do that down the road.. making it way stiffer also.. might do a cast aluminum t slot bed plate for it, but well see.. bed plate is the last part for it I need aside from the software.. its getting pretty spendy now... not sure what the cut tolerances will be, but they will be much better than I will ever need I think.

Well the plasma is going in the garage.. its a 2x4 table. The router is probably going to stay in my house.. it might look nice in the kitchen haha. I dont think I have room in my garage for it..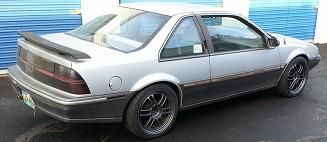 88 Beretta CL
- your average grandma car.. Ls1 swap in progress
77 Celica
- needs an engine swap
96 Geo
- 1.0L, Cam, 3 angle, magnaflow, Koni, coilovers.
86 Subi
- Supercharged @7psi
---
---
Who is online
Users browsing this forum: No registered users and 7 guests