Chevy Beretta Owners Community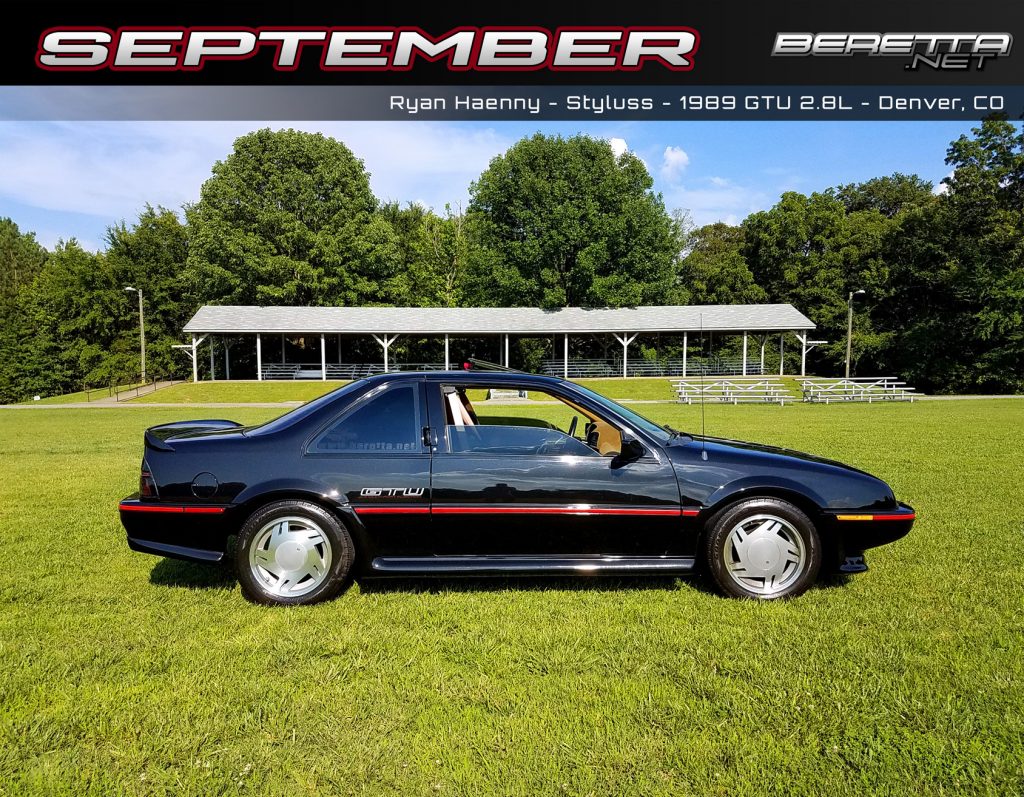 Ryan Haenny's 1989 GTU (It's filled with peanut butter)
What you're looking at is Ryan's 95,000 mile 1989 Chevrolet Beretta GTU. It's got the 2.8L V6 engine, a 3-speed automatic transmission, a black exterior and a tan interior. And who better to tell you the story of this car but Ryan himself:
At some point in my Beretta career I decided I wanted a factory black GTU. Finding that car in something affordable, let alone when I actually had some money and not across the country, seemed hard enough as it was. Add to that the fact I also decided I wanted it to have tan interior well, we're talking an absolute unicorn OR one hell of a long-term project. So, I started hunting tan interior parts. Slowly but surely, I was collecting them for the day my car came along. Piece by piece. Sometime along this path I also decided I needed a purpose-built rally car as I was tired of replacing parts on my nice white Beretta. Boom.
Like an angel from heaven I had a gold on gold '89 Beretta fall into my lap and you best believe I scooped it up! It was a true score; a car with tan interior in pretty good shape I could tear out and save for my dream car and then use the shell to go rallycrossing! Fast forward a few more years and there it is… My opportunity to bring the dream to life. I actually had some cash and it came around; a 1989 Chevy Beretta GTU in black.
It was in Ohio, not nearly as far as all of the ones I kept seeing pop up in Pennsylvania but still a bit of a journey. While I was in talks with the seller, someone else local bought it. DAMN. Oh well, back on the hunt I guess. Or perhaps not as time would tell. Only a few weeks later I was contacted by the person that bought the car saying he was willing to sell due to his scenario changing. Oh man, here we go. The more we spoke and the more it all came together the more and more excited I got and eventually, I booked a plane ticket to Ohio. I flew into Ohio and got an Uber to the hotel to patiently wait for the next morning. Morning came and the seller drove to pick me up and take me to the Bureau of Motor Vehicles for the title transfer. Such service! When we got there the place was packed! Like, standing room only packed, wall to wall. Very thankfully only one of the clerks was able to notarize the title change and when he was done with his current client, we were called! Boom, bang, done… we were out of there in like 15 minutes, shook hands and I was on my way back to Colorado with my car!
Once the car was home I immediately started pulling the interior. Out with the gray and in with the tan. All the while not letting anyone know but some of the local Beretta crew know that I had the car. You know, #seekrits and all. After the interior swap it was time to get a fresh coat of paint on the old girl. That was an adventure it itself as the painter lost my keys, poorly installed a new tumbler that actually went bad on me at Berettafest Kentucky (where she was debuted to the group), and left a slew of poorly executed work. However, after over a year worth of being in and out of the shop she's done! Shiny as ever. The paint you see on the calendar isn't even her final form! I guess you'll just have to wait for BFest 2020 in Rapid City South Carolina to see it for yourself.
Questions? Want details on anything? Hit me up! And thanks for voting me into the calendar this year!
Ryan – AKA Styluss