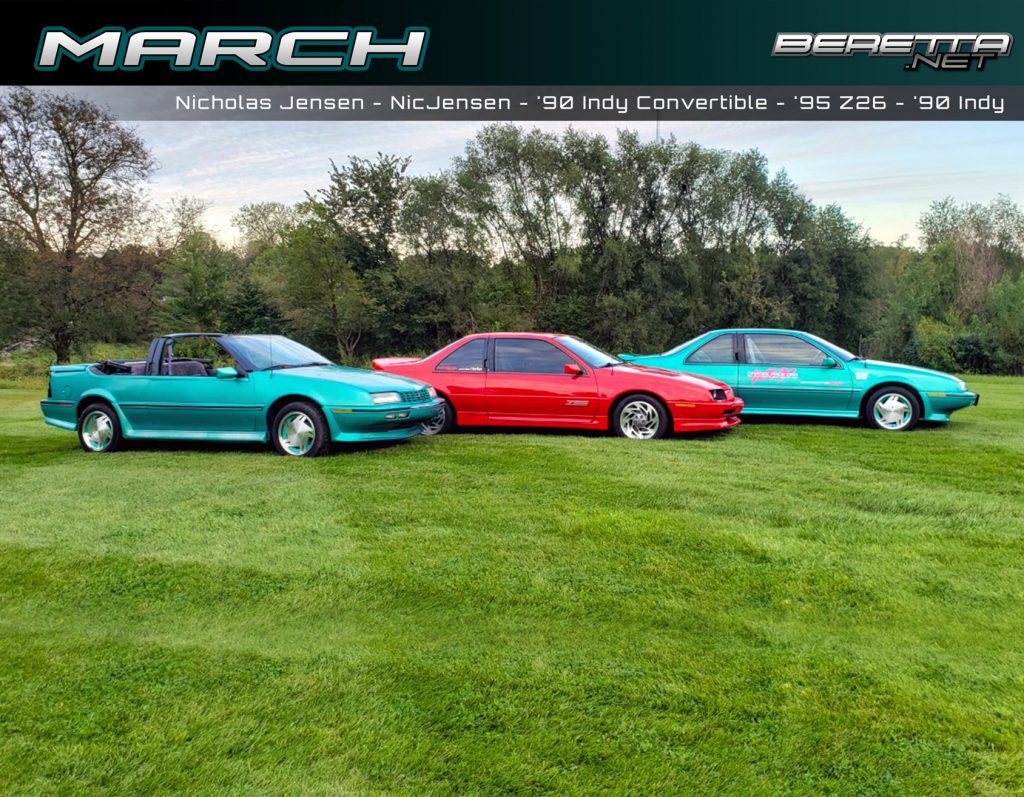 Nicholas Jensen's Beretta Hat Trick
Here are some words from Nicholas about his trifecta of Beretta fun!
Back in 1997, my Beretta craze started with my 1991 bright red GTZ: quad four, 5 speed, and sunroof! Although it blew the head gasket, once I fixed it I drove it 'til I fell in love with a 1996 white Z26. I decided to trade it because I was worried about the head gasket going again. Later, I purchased a yellow Indy that had been stolen from a dealership and stripped of it's ground effects and seats. It was a 5 speed, sunroof, and digital dash Indy (my dream car at that time). I had it repainted and put ground effects and seats from a GTZ on it. Fast forward to my current Berettas…

Back in 2013 I purchased my 1995 Z26 (found in Craigslist in Lincoln, NE). Since then I've had the car repainted, installed GTU mirrors and spoiler, euro headlights and taillights, and cut Lumina Z34 vents in the hood. Then, I believe in 2018, I purchased my one owner, mint teal Indy with 17,800 miles. The lady bought it brand new off the dealership floor and drove it to work on only nice days and a few trips to Texas. Her husband tried to get me to buy it for many years since she quit driving it, but I didn't think she would sell. Years later she passed away from cancer and he really wanted me to purchase the car because he knows how much I love Berettas. So we finally agreed on a price and now it's in my hands. Currently has exactly 18,000 miles. Then last but not least… my ultimate dream Beretta: a 1990 Indy convertible, baby! Oh, yeah!

I woke up one morning at 5 AM, got on Facebook, and saw an ad shared on our page that said "Beretta ragtop." I glanced at the pictures and couldn't believe what I was seeing (thought I was dreaming) 'cause I figured the chances of this ever happening were 0%. Then, I thought, "I'm sure it's a long ways away." But then I saw it said "Missouri," and I think my heart stopped for a couple of seconds. At that point I decided that car was gonna be in my garage within 24 hours one way or another. I immediately contacted the guy and told him I wanted it and was on my way. After his phone started blowing up from people all over the US, he called me and said to hold off; he has to figure out what's going on with this car. So my hopes of getting the vert were shattered.

About an hour later he calls me and asked if I really wanted this car. Of course, yes! More than anything! He said, well I think you deserve to get it since everything you told me about it is true from what he's read, and I think you're the right guy to get it. I was on cloud nine.

I quickly drove back home, got my truck and a trailer, and made the five hour journey down to get it. When I popped the hill and saw it, I was still in disbelief that I was looking at the rare unicorn and that I was gonna be the proud owner of it. I didn't waste any time and started winching it on the trailer right away. Then, after a quick stop, I started back home still not believing what was in my rear view mirror. I got started working on it right away. I fixed the oil pan, added fresh gas, and it fired right up. I've gotten most of the interior cleaned up and am currently working on the seats. It's gonna be a bunch of work but I'm dedicated to getting it back on the road and enjoying it!