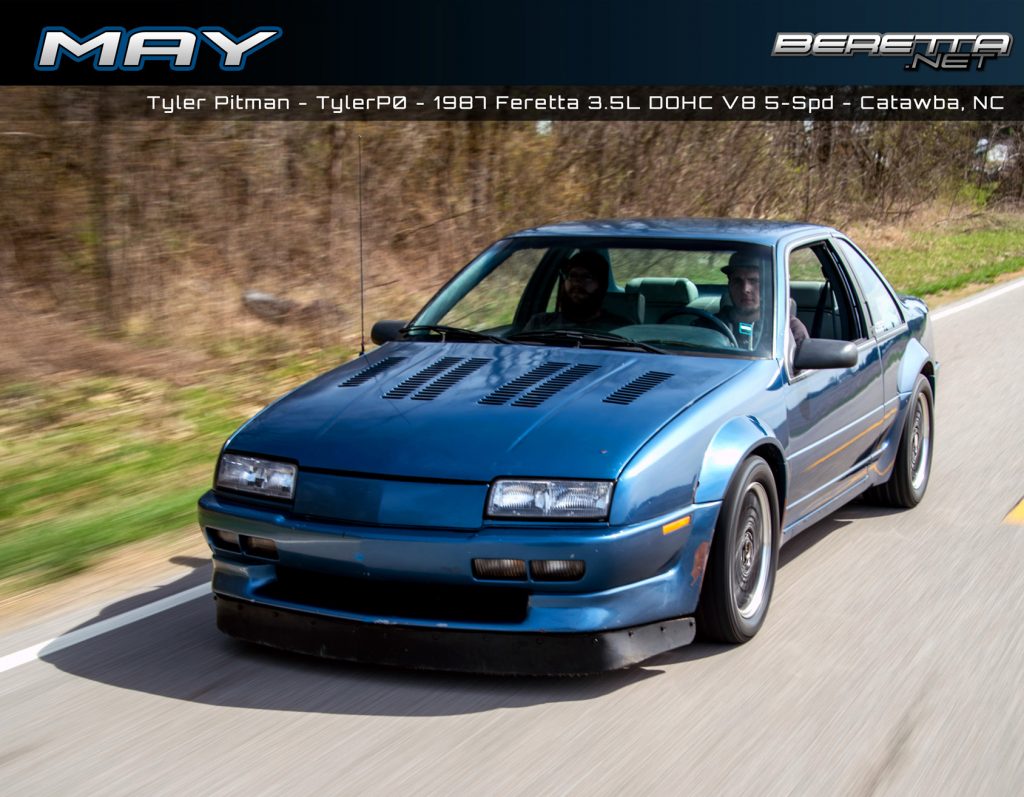 Tyler Pitman's 1987 FERETTA (It's pretty cool, I guess…)
From Tyler:
First and foremost, I have to say that it is an absolute honor to own this car and to be able to get it out to the community after so many years of it being out in the world, but not in the community. The car I'm talking about is no other than the 1987 Chevrolet Feretta prototype! A car that when I was a kid I could only dream of owning when I saw it in the June 1998 Hot Rod magazine article. A car that I went googly-eyed over when it was up for sale back in 2009 at the Barrett Jackson auto auction. A car that many people still don't even know what it is.

Under the hood of this bad boy is a said to be "around 3.5 liter" DOHC all-aluminum experimental v8, built by Isuzu and mated up to an Isuzu five speed that I have not been able to identify. I have had many people instantly want to refer to the Northstar v8 when discussing this car, but it in fact does not share anything in common with those engines other than the bell housing pattern, which is the generic fwd pattern found on 2.2 OHVs and most FWD v6s of the late 80s-00s. It has a main drive timing belt on the front of the engine driven from the crankshaft that also runs the water pump and a small timing belt on the back side of each head to connect the two camshafts. This engine also utilizes a Mitsubishi style coil on plug ignition system that uses one ignition control module per bank. I had a couple of diodes inside of one of those modules go bad and had to retrofit newer icms from a '96 Infiniti q45. I also needed to replace the starter which was easily achieved by switching over to the smaller style starter from newer 3400s. The spark plugs were also replaced with AC Delco p/n plugs.

As far as suspension and brakes go the Feretta still uses the stock disc/drum brakes originally found on the Beretta. It has stiffened control arms on the front with slightly different spindles to widen the front wheelbase, with spacers behind the rear wheel bearings to widen the rear. It is also safe to assume that the springs were also swapped out for ones more fitting for the cars configuration. It is also sitting on welded two piece BBS 16″ wheels.

There is plenty more that is unique about this car like the steering wheel that says "Future" on the horn button, the fully reupholstered interior with custom door/quarter cards, stitched leather shift boot, and the Feretta badge on the dashboard. Unfortunately the car is in less than perfect shape at just over 7,300 miles due to neglect by the previous owner in Florida. So the dash is warped, headliner is falling, rear quarter cards are peeling, and it needs some body work/paint. Overall though the old girl isn't too bad.

Once again, it's a great honor to be the owner of this beautiful car and I hope everyone else enjoys it being in the group just as much as I do!
We do, Tyler. Very much so.
Enjoy some lovely photos of the Feretta, taken by Shutterfuel. In addition, check out this video they filmed of the car with Tyler! If you're hungry for a taste of that sweet Feretta sound, check out this video that Brad took at Berettafest 2018!