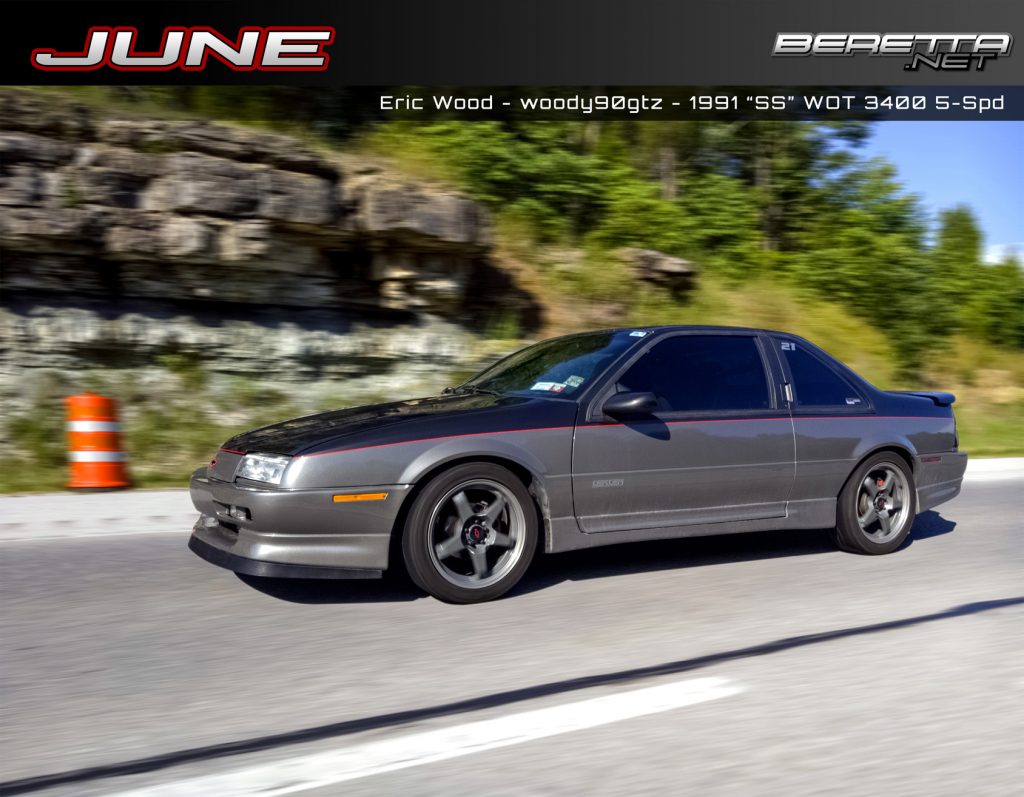 Eric Wood's 1991 "SS"
Here's some more from Eric about his super sexy, surprisingly swift, and scintillatingly satisfying Beretta "SS":
If you're reading this you might already know the story behind the "SS". It's originally a teal '91 GT 3.1v6/5spd car. I think of it as the "SS" Chevy should have built.

It has the factory Z ground effects and a lip on the front. It has 17×7 wheels with sticky Falken rubber. I swapped in a 3400 with WOT-Tech heads and cam. It has fully mandrel bent custom exhaust with modified headers. Power is delivered through a Spec 2+ clutch to a fully rebuilt 5 speed with an EP limited slip. It sits on cut Eibach springs and KYB shocks & struts with a combination of GM and DIY chassis bracing. Has upgraded disc brakes front and rear with a Lumina master cylinder. The front sway bar is FE7 spec and the rear is a solid Addco. Inside I fabbed mounts to install some leather Cobalt seats, as well as using a leather Z34 steering wheel and Z28 shift knob. I converted all of the interior lighting to red LED and made custom gauge and stereo faces on the CNC printer at work.

The car is a lot of fun, and I beat the snot out of it. I'm guessing it's about 275hp, but it's only 2700lbs. My best time at the strip yet is a 13.5@100…but with some more seat time I think I can beat the Beretta n/a record of 13.48. It's also good with lateral G-forces on the autocross and it's a great road trip car, too. I've driven it all over from Boston to Tennessee to Milwaukee and many more. I don't plan on this car ever leaving my possession. I plan on keeping it forever, since it's an upgraded version of my first car when I was 16.