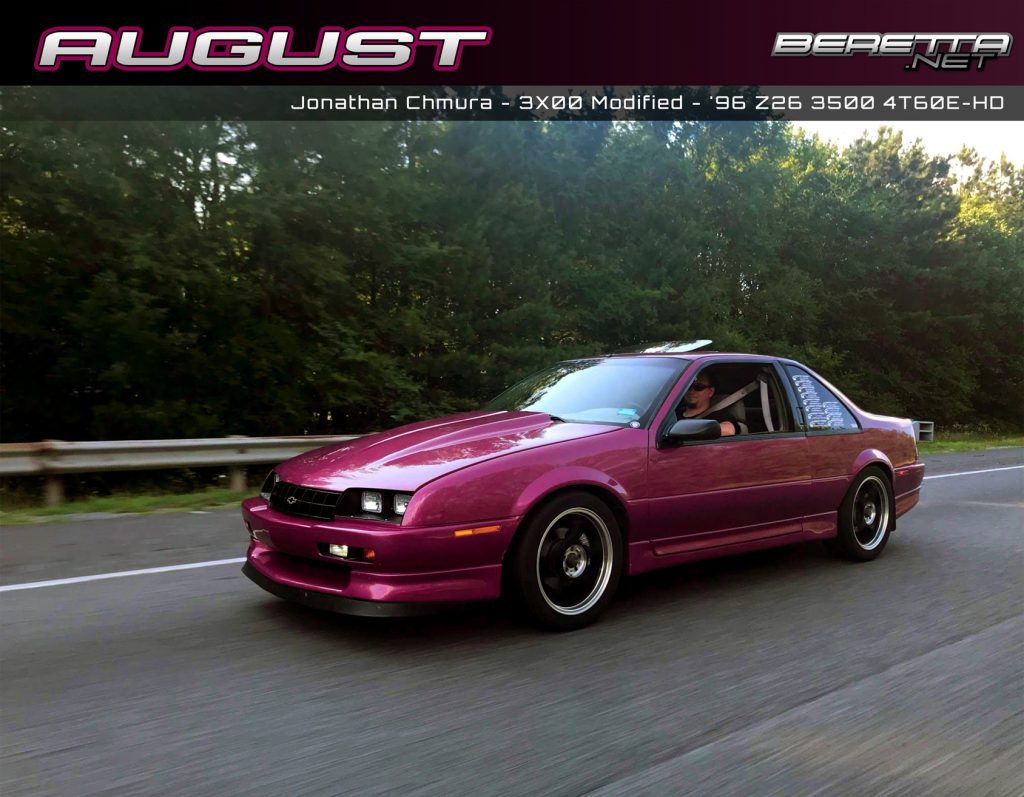 Jon Chmura's 1996 Base Model With Nothing Really Special Done To It (Two pink cars in a row?!)
So here we are again, 3+yrs later pretty much the same never ending project, the below description of the car still holds pretty true, and I'll make any edits to the mod list if necessary.
Since writing this in 2017 the car has seen a few changes, most recently was the addition of power windows a new carpet and new Viper alarm system. I have also installed a Curt hitch and re-routed the exhaust to be in the stock location, vs the center exit exhaust. This was all due to the fact that I was able to purchase a ticket for Hot Rod DragWeek 2020. If you don't know about DragWeek, check it out. It was going to be a fun adventure, but then COVID 19 hit. 🙁 I have a guaranteed spot for 2021 though so that's refreshing. I'm looking to compete in the bracket class so every one of my runs at the tracks counts towards my average time which ends up as my dial in time for the last day. This gives me a smaller chance at getting anywhere, since I know my car is not fast enough to compete on a quickest time entry, especially since all of their classes are V8's.

Previous 2017 story,
I'm not sure how to describe this car other than its a ever progressing project that has changed direction multiple times in it's life, but in the end has always acceled in it's original discipline.  I'll be blunt, I bought this car after building a hybrid engine for my 95 and then splitting up with an ex GF… I was driving my 95 daily with this engine and saw what it was doing to it in a daily application, and seeing how I was on my own and didn't have to ask anyone for permission I just bought this car.  Granted it was also brought to my attention probably at the best possible time.  It was purchased from Ansonia CT so somewhat local to me, a base model raspberry V6 auto car with 74k on the clock a cracked radiator and basically no rust problems.  So I get this car to my place and I also have a Z kit acquired to bring it's appearance up to snuff… I've done the base look for so long it was time for me to go Z.  That's where the basic info stops and the drive line stories begin… There were lots of changes with this car over and over again to tweak it to what it is today, and to be honest (April 2017) the transmission is currently out of it right now being tweaked once again as I'm learning more and more about it. (Trans has been tweaked a few more times since April 2017, but I did learn what was holding me back at that time.)
It seems odd to say this but this car has really only had two engines… It feels like way more have been through it but it's mostly just been removal for inspection or tweaks more than actually changing the motor as a whole. It started with the Hybrid engine that came from my 95, When that was cleaned up for use in this car I also purchased a new very large camshaft for it as well as some much stronger valve springs…. Many of this stuff was not available at the time of building my first engine so I went all out on the cam this time around. That setup ran till Jan of 2010 when I pulled that engine to go through it and update some stuff. In between it had been serviced for a bad timing set, and some other various problems. I can say in its first outing in 2008 the car put down a 13.996@98 in the 1/4mile at Bfest Niagara Falls. Best time for a 3400/3500 4t60e Beretta. Only recently have I been able to beat that time and one needs to remember other changes that were done to this car between then and now actually slowed that 13.996 down to a 14.3/14.2. It wasn't till Winter of 2014/2015 that I would decide it's time for a new engine to make this car quicker.
Insert the ambitions to put a 3500 for good in this car and get it back into the 13's without any nitrous.  Search began for a 3500 engine with the proper forged crankshaft since I knew that should hold up best to what I would be doing.  I found one locally with 45k on it and bought it, at the time I did not believe the crank was the proper one until I had it all apart and proved that to be incorrect.  During that build I found that I would need to replace my camshaft due to some wear as well as that would require new springs and pushrods, so I went all out and had this motor blueprinted by myself and every part of it gone through carefully.  Had the rotating assy balanced, pistons measured and bores sized independently for each one to ensure proper fit and so on… I could go on forever about all the detail work and customization that went into that 3500 but to save on this post you can read it all here… http://www.beretta.net/forum/viewtopic.php?f=27&t=5733&start=765#p134079. Since the 3500 project start, the car has also be upgraded to a 4t60e-HD transmission and the HD CV joints as well… I did however immediately break an axle shaft on my first visit to the drag strip with that setup.  Everything had been upgraded but the axle shaft itself, and that had been slowly twisting since 2008 and finally decided to let go.  (April 2017) All of those changes update and problems aside, I'm back to ripping into the transmission to learn more about it, how it shifts and why, improve upon that as well as find and identify a problem that resulted in low line pressure and extremely poor shift quality on my last visit to the dragway.  I will leave you with this… A full or maybe full list of whats done to this car.
3500 Engine
Balanced and blueprinted assy
SS Performance Valves
PAC 1218 Racing Springs
Comp Custom Cam, Dur@.006 268/282 Dur@.050 218/230 Total Lift .570/.568 109ICL 113LSA
TCE Double Roller Timing chain
Ported 3500 Heads LIM and UIM
TCE 65mm Billet Throttle body
S&S customized headers for L-body application
Twin-Z Performance 304 Stainless steel Catback pipe
Spintech 304 Stainless steel muffler
Walbro 255 HP intank fuel pump
4t60e Upgrades
All Sonnax replacement valve body valves
Sonnax billet 3rd gear piston
Raybestos Stage 1 4t65e Input clutches
Alto Performance 2nd gear powerpack clutches
Raybestos 3rd gear 4t65e Z-pak
4t65e Ratchet sprags for input and third gear
4t60e-HD differential with EP Limited Slip insert
OEM HD axle components paired with Beretta half shafts and N-body outer CV's
Suspension/Brake Upgrades
Canuck Motorsport springs paired with Koni struts shocks
J-body Koni Strut front inserts
Ford Thunderbird Rear Koni Shocks.
Addco 1″ rear swaybar
N-body front knuckles and wheel bearings
N-body or F-body swapppable brake package.  10.94″ or 11.92″ rotor options depending on what I'm doing
Researching different lighter brake packages at the moment… I would like one setup that I could leave on there all the time.
95 Neon sport rear disc brakes
I'm sure I'm forgetting something but I can only remember so much.
All I care about is, It's Pink, It's Loud, It goes fast, It stops quick, and It turns when you tell it to.  This car has been a journey and I'm sure it's not done yet and will probably never be done.  I hope to continue to expand upon it's accomplishments and make this one Beretta that can never be forgotten.