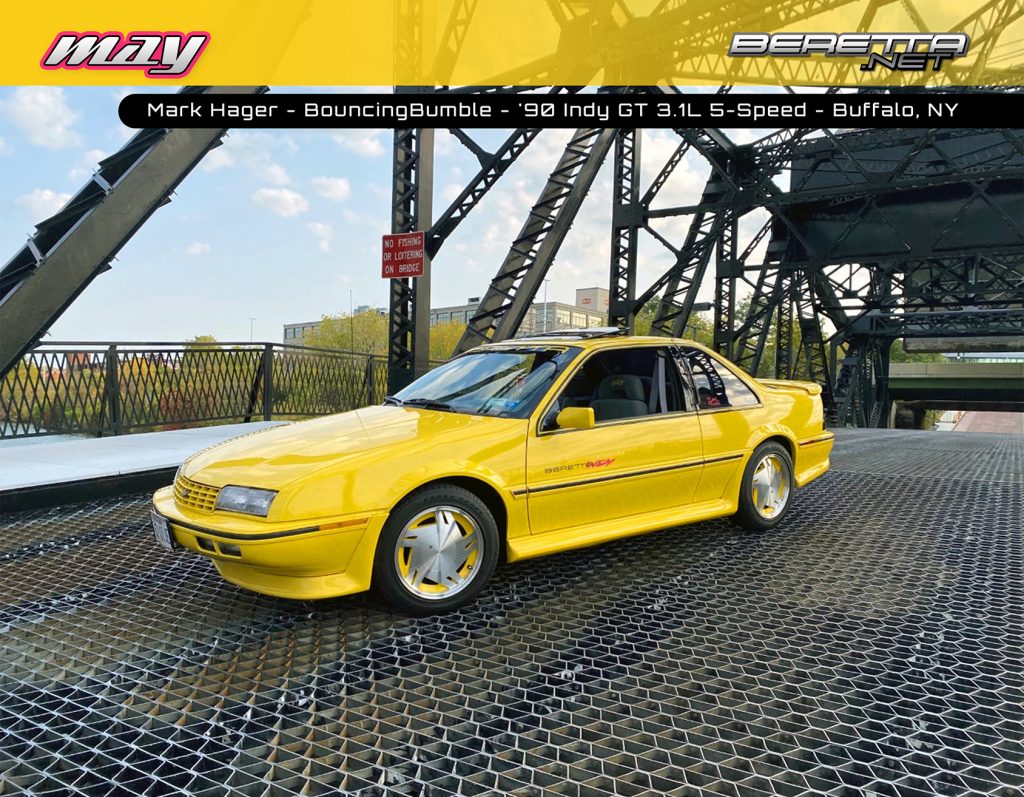 Mark Hager's 1990 Indy GT 3.1L 5-Speed
Our beautiful May Beretta of the month is Mark's 1990 Indy! Here's some more from Mark about his past, present, and future with Berettas!
In spring of 1990, I was an 18 year old kid working through my first year of college. I recall stopping by Glen Campbell Chevrolet in suburban Buffalo many evenings, after wrapping up my shift at the local supermarket, to envy the matching 1990 Indy Beretta GT's displayed front and center in front of the show room and wishing they weren't so far out of my $5.00 an hour part-time price range.

Fast forward a few years, and I found myself in a new job and able to afford a '93 GTZ in Garnett Red. Periodic Quad 4 engine issues notwithstanding, it was a great car and hard to part with after 10 years, but it was unavoidable and so my Beretta experience became a memory. Until, in 2015, when I spotted a yellow Indy on another local Chevy dealer's lot. Recently traded in, I made a quick play and after some serious negotiations with my wife, became the third owner of a super clean example.

Fate being cruel, I lost that car in a movie set fire in early 2018 and after getting over the shock, began a not so hopeful search for a replacement with much help and support from my Beretta FB family.

Unexpectedly, only a couple short months after the fire, a fellow group member reached out to me considering a sale of his Indy which he had owned and enjoyed lightly since new. A trip to Missouri and a few signatures later and the Indy had a new home.

This Indy is a 5 speed with sunroof and digital dash. Since taking ownership, the car has received new injectors, new headliner, and had the ERG, alternator, water pump, and belt replaced. Additionally a full professional paint correction was done to touch up a number of chips, and a new set of Goodyear Eagle Sport tires were installed all around.

Being in the Northeast, the car is stored for the winter and comes out in the spring for nice weather only. This summer's projects include removing the windshield to repair some minor dash curling, replacing the passenger side dew strips, and performing a full underbody cleaning and detailing. In between enjoying some summer drive time and cruise nights of course!