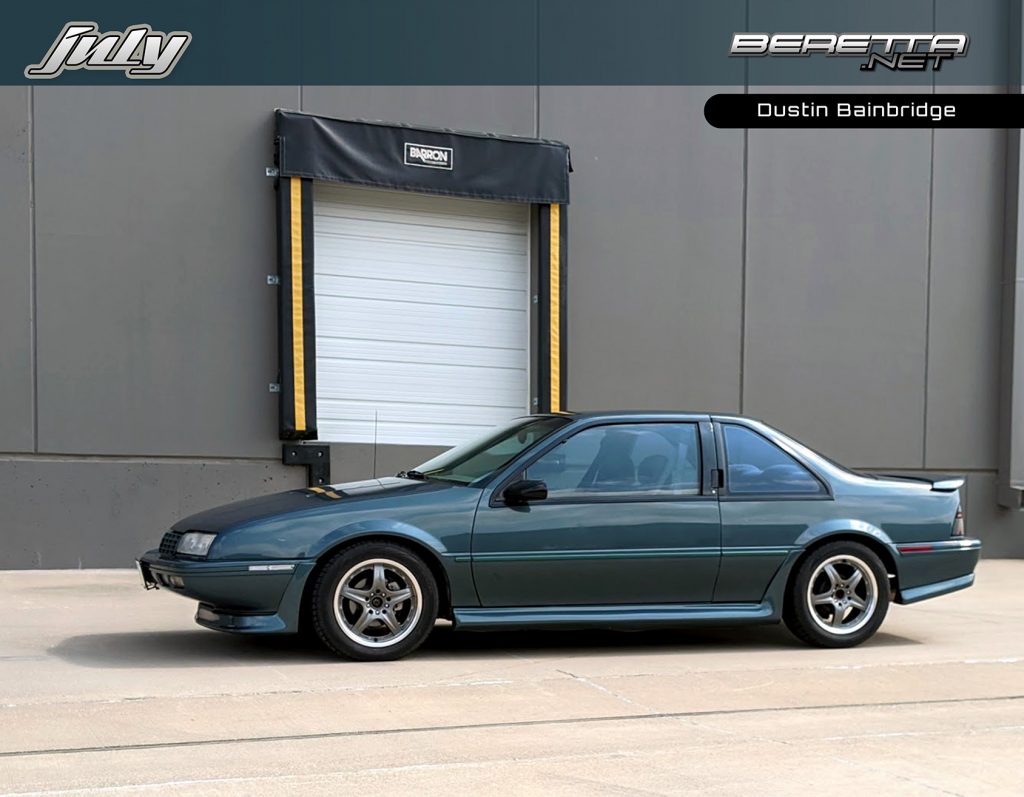 Dustin Bainbridge's 1994 DGGM GTU/Indy-Styled Base
Dustin has done a fine job making this Dark Green-Gray Metallic (DGGM) 1994 base model Beretta into something way wilder (in a subtle, clean way) that it probably ever expected it would be. Here's some more from Dustin diving into the history of the car, followed by a mod list and some additional photos!
I am the 3rd owner of this car. My grandmother purchased it from the original owner on 6/14/2002 with 36,669 miles on the odometer (my mother actually worked at the same business as the original owner, so we were aware of the lineage of this car before acquiring). Shortly after I had to retire my 88 GTU with over 300,000 miles due to a cracked engine head and rust issues at the rear crossmember, my grandmother gave me this car as I needed a new daily driver (this was around 2008/2009). Due to that, I unfortunately racked up some miles on it in the next few years. The car currently sits around 93,000 miles after driving to BerettaFest 2021 and will continue to see nice-weather driving and garage-life as long as I own it.

It is a late-production 1994 model and one of the few examples of Berettas in Dark Green Gray Metallic paint. It was only available on 1994 and 1995 models (and I believe in only base trim). GM did offer this paint color on some other vehicles in their line-up, such as the '96 Impala SS.

This car is somewhat of a 2nd class citizen to my other base ('91 garnet), but has seen its share of upgrades/modifications over the years, mostly due to happenstance. The INDY seats were a junkyard find that I couldn't pass up. And they fit the DGGM scheme/style fairly well considering they are teal. The GTU lower ground effects and GT spoiler I happened to find on a visit to a junkyard I have only ever once been to, and haven't since. I'm always curious to see combinations of colors/installs, and have never seen anyone do a GTU/INDY style DGGM. (Erich Dethloff did the Z04 conversion to his 95 DGGM back in the day, but I just had to know how the other kit would turn out and look). The ICW wheels came from a friend of mine who used to have them on his Beretta before he also had to retire it due to rust/mileage.

It also started out with very little options…it didn't even have a tilt steering column to begin with! I added power windows, full gauge cluster with factory tachometer (rare for a 2.2L), remote trunk release, auto-dimming compass mirror, and I am working to finish up the factory cruise control installation. As a more major modification, an Isuzu 5-speed swap is next on the horizon, with parts courtesy of Colorado crew Ryan and Aaron!
1994 Chevrolet Beretta
Build date: 4/18/1994 | ~93,000 original miles
2.2L GM LN2 OHV MPFI | 3-speed THM-125C automatic
1 of 3366 cars painted in Dark Green Gray Metallic (DGGM) in 1994 based on RPO code
source: Compnine.com VIN Decoder
Exterior
INDY ground effects and rear spoiler
Clear front sidemarker lenses
Interior
'90 INDY seats
'96 Z26 door panels
Suspension / Wheels / Tires
16"x7" ICW Kobe Wheels
Dunlop Direzza Tires 225/50
'92 GM J/L/N-body strut tower brace
Intrax Lowering Springs
FE3 internal rear sway bar
Addco rear sway bar
Polyurethane front swaybar endlinks
KYB GR-2 Struts / KYB Gas-A-Just Shocks
Engine
Taylor 8.2mm plug wires
Polyurethane upper motor mount insert
FFP billet/polyurethane lower engine dogbone
Custom intake with K&N filter
Optima Red Top battery
Walker muffler
Stereo
Alpine CDA7893 Receiver
Infinity 4×6" front plate speakers
Sony 6×9" rear speakers
2 10" Pioneer subwoofers
Pioneer amplifier
Convenience Upgrades
Conversion to power windows
Tilt steering column
Premium gauge cluster (with factory tachometer – rare option for 2.2L's)
Factory 3rd brake light delete from interior (rear decklid cover swap from spoiler equipped car)
LED lighting throughout
Remote trunk release
Grand Prix leather snakehead shift knob
Auto-dimming rearview mirror with temperature display
Future plans
Finish OEM cruise control addition
Isuzu 5-speed swap with NOS transmission